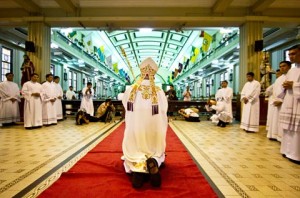 It is the function of a good university to turn out an educated and informed citizenry, trained in the skills of critical thought necessary in building and growing an electoral democracy such as ours. This is why it is with gladness that I would like to invite students of the University of Santo Tomas to attend the forum whose details appear below, wherein upcoming national Senatorial candidates have been invited to a public debate on the vital issues of health, population and development.
I am particularly heartened at the courage and forward thinking of the student officers that took the initiative to organize the forum, and the school administration that must have approved it, which as we know has a history of silencing any open discussion on national reproductive health issues unless it is in line with strict Catholic Church doctrine. Now that we have an RH Law, I am glad that the UST school admin decided to lead its students by example on how to work with national government towards the greater good. It is only fitting that a school such as UST, with its prominent medical education program, should take the lead on learning the stand of potential lawmakers on health issues.
…Wait, WHAT? The school administration had it canceled? Because ProLIFE Philippines, a group that has no problem having a punchdrunk thug like Lito David running for them, complained that Risa Hontiveros, a proRH advocate would be going?
Well, God forbid we should have an open intellectual discussion in the middle of a university! My parents went to UST. They met there. They used to be proud of it. And I think the students there who fight for their right to be informed should be proud of themselves as individuals. I'm aware that as a privately run institution those in charge of it can stuff their student's heads with whatever they want. As generally conceived, however, a school, especially a university, is supposed to be a place for the mind's liberation, not its indoctrination. Until those in charge of UST can remember that, those university leaders have only themselves to blame for outsiders like myself thinking of their school as a shitty pseudouniversity run by petty, small minded cowards.
Invitation to #YouthVote 2013

A few months away from the national elections, the Student Council Alliance of the Philippines and the Forum for FP and Development invite you to the first of a series of forums for national and local candidates for 2013 starting with the First Senatorial Forum on Health, Population and Development, January 11, 12nn-2pm at UST College of Medicine Auditorium.

Mainstreaming youth issues, sentiments and policy recommendations for the 2013 elections, the youth leaders spearheading this movement nationwide would like to champion responsible voting, challenge traditional politics and make politics work for the youth and the Filipino people as a whole.

Confirmed guests in the forum are: Ms. Risa Hontiveros, Ms. Grace Poe Llamanzares, Mr. Richard Gordon, Ms. Jamby Madrigal and Rep. Sonny Angara. The event will also be inter-active and on live stream in Bicol University and University of the Philippines Cebu powered by SMART

Details:

Now Trending: #YOUTHVOTE2013

1st Senatorial Debates on Health, Population and Development

January 11, 2013

12:00nn – 2:00pm

College of Medicine Auditorium, University of Santo Tomas
—
Image from varsitarian.net