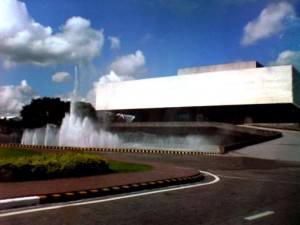 Calling all Freethinkers!
August 21, Sunday, was supposed to be the last day of the Kulo Exhibit, but due to all the furor surrounding Mideo Cruz's Poleteismo,it has been regrettably shut down. The issue has definitely riled up individuals both in and out of the artistic community, reminding them of our intrinsic right to freedom of speech and expression. And in light of the UN's affirmation that blasphemy is indeed a human right(http://filipinofreethinkers.org/2011/08/14/un-affirms-blasphemy-as-a-human-right/), it couldn't have come at a more poignant time.
In commemoration of Kulo's now-thwarted closing day, and to show our solidarity with our country's fearless and passionate artistic community, a march for freedom of expression will take place on the afternoon of the 21st.
Marchers will congregate at the side entrance of the Cultural Center of the Philippines (across the Harbor Square-side parking lot) at 1 PM, and will march up the center's main ramp. Bring banners, placards, small artworks, and your own unique way of supporting the freedom of expression, and rejecting censorship and persecution. Please wear white.
For coordination, you can text Kenneth Keng at 09179681387.
We'll see you there!