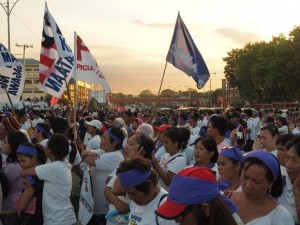 The last years have clearly shown that the Reproductive Health Bill and its provisions are in demand and have been approved by a majority of our population. The best scientific evidence has shown its measures' efficacy and safety.
Despite this, its opponents have sought to undermine our democratic processes and perpetuate the suffering and death of our women through lies, misinformation and the blatant use of the influence of the Catholic church hierarchy on our elected officials. We would therefore like to invite any and all who wish to push back against this insidious trend by attending the following activity. It's organized by the Reproductive Health Advocacy Network (RHAN), a coalition of dedicated NGOs and advocates that includes groups from within the Catholic Church like Catholics4RH, that have declared that its ruling body the Catholic Bishop's Conference of the Philippines (CBCP)no longer represents their interests.
Come on by if you're tired of watching the CBCP delay while women die.Warm greetings from the women and men of the Purple Ribbon for RH Campaign!
In celebration of women's month, we would like to invite you to join RHAN's "Rage for RH! —
Rally against Gender Discrimination, for Women's Empowerment!" on 30 March 2012, from
3:30 to 7:00 pm, at the Bantayog ng mga Bayani Grounds, Quezon Avenue corner EDSA, Quezon
City.

While celebrating the many victories women have gained throughout our herstory, this gathering of
women and men aims to: 1) unify women and women-supporters on the central place of reproductive
health and rights in women's lives; 2) creatively and collectively express our outrage at the capture
of health policy-making by religious conservatives; and 3) highlight the value of women's lives and
empowerment in nation-building.

The event will include an art exhibit showcasing Agnes Arellano's sculptures on women's bodies,
booths/stations where participants can enjoy several means to creatively express their frustrations
over the ongoing delays in the passage of the RH Bill, a ritual of commitment through dance, chants,
noise-making, and a cultural program of poetry reading and performances by pro-RH artists and
personalities (Final Program and Event Details to follow).

Knowing your ardent support for women, we would like to enjoin you and your colleagues to join in
this festive yet meaningful celebration of women's lives. Your presence will be a big inspiration.