It was the afternoon of the twenty-sixth day of March, two thousand eleven, Anno Domini.
The glaring sunlight pierced through my black coat like a volley of searing javelins. I walked along the streets of Taft Avenue, amidst the towering alabaster-clad metropolitan megastructures apathetic to my existence. I was heading towards a specific private establishment, locally identified as The Coffee Bean & Tea Leaf, where I was supposed to meet a certain band of individuals. When I reached my destination, I took a seat, and waited patiently.
Soon enough, they arrived.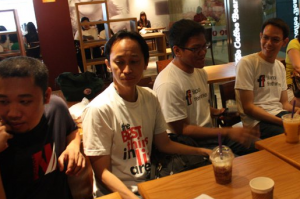 I was locked firmly on my seat as I perused the members of the organization, one by one, analyzing them with utmost curiosity. They have been called many things, such as blasphemers, heathens, and even demons, but they go by one collective moniker—freethinkers.
I had always looked forward to meeting them. In the recent past, I had only seen them in media broadcasts, formally recognized as the Filipino Freethinkers, owing their popularity, or rather, notoriety, to their naysayers, primarily constituted of the Catholic Bishops' Conference of the Philippines, Catholic fundamentalists, and more Catholics. Prior to this day, I had only encountered them through their Facebook group wall where I constantly troll, ignite uproars, and cause general mischief. But at that moment, they were actually in front of me.
The first order of business was introduction. I was introduced to the head honchos of the organization. I learned firsthand what they do and how they got there. Subsequently, the initiates, who had only met the organization for the first time, who happen to be my colleagues and myself, were also asked for introductions.
With us being intellectuals, what we did was to freely exchange ideas. We discussed an array of issues, with topics ranging from international human rights, to the local reproductive health bill, to toilet paper. Yes, toilet paper.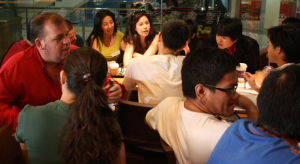 I remember having to answer some ethical questions, akin to those popular ones wherein you have to participate in a critical decision-making scenario where your choice would dictate the outcome of your life and/or the life of others. I managed to answer them with a straight face, but what I tried to keep imperceptible were my doubts. Would I really be able to live up to my initial answer? I guess I would know when I face such a dilemma.
In summary, the discussions were casual and light-hearted, but at the same time intellectual and thought-provoking. Everybody was allowed to present their own perspective, regardless of religious or political affiliation.
The final agenda, and the main purpose of the meet-up, according to Red, the President of the Filipino Freethinkers, was about the establishment of a De La Salle University based freethinker group. They deemed it necessary that a new chapter of the organization be founded, particularly centralized in the aforementioned university. The initiates were commissioned to create and govern this distinct organizational division. I was designated president of this chapter.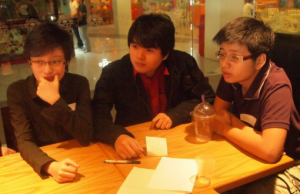 Being surrounded by individuals of similar wavelength, intellectually open to philosophical discourse, sincerely convicted to their respective ideological stances, valiantly ready for sociopolitical action—I knew I was home.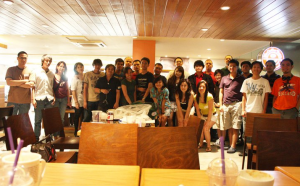 What a glorious day this was. How privileged was I to have met people of my own kind. How honored was I to have been appointed leader of my very own circle of freethinkers.
I exited the café with a satisfied psyche and a sinister grin. Deep inside, I was delighted to see that there are still people like them. These people sacrifice their time and effort in the name of the ideals they are fighting for. I had a lot to do, and I knew I have to start right away.
Now I tread on forward with a greater shouldered responsibility. Anticipating undying support from my newfound comrades, I shall face our common adversaries—ignorance, fundamentalism, and intellectual suppression—all in the name of freethought.
It was getting dark.
The gleaming moonlight drizzled on my black coat like weightless droplets of hope. As I stared at the dimly lit sky of Taft Avenue, I had only one thought in mind, "Tomorrow will be a good day."