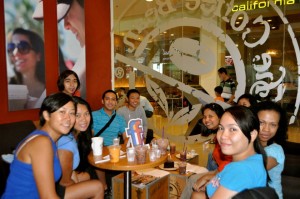 Event: Filipino Freethinkers – Subic Meetup
Location: Terrace Café, Subic International Hotel – Delta Building, Subic Bay Freeport
Date: May 9, 2013
Time: 7:00pm – 10:00pm
Discussion Topics:
The Right Age for Vices
The Science of Lust
Plus other topics
Contact Number:
0928-748-0627
RSVP: https://www.facebook.com/events/383366011778396/
Join FF – Subic on Facebook:
https://www.facebook.com/groups/ffreethinkerssubic/
Everyone is welcome, regardless of age, gender, belief/religion, race, and nationality. There is no need to order or buy from the cafe. Just look for the FF sign or that group of sexy, smart people.
Filipino Freethinkers – Subic Chapter is a group of freethinking Filipinos, composed of atheists, agnostics, deists, pantheists, humanists, and progressive theists from the Subic Bay area – Olongapo City, Subic Town, and the surrounding towns of Zambales, Bataan and Pampanga. We are a regional chapter affiliated with Filipino Freethinkers, the largest freethought organization in the Philippines.