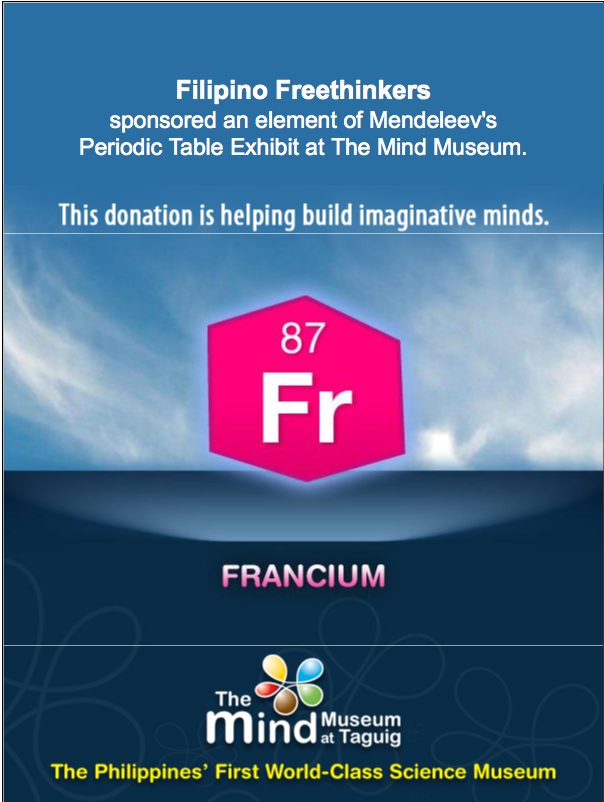 Carl Sagan once had to argue for the inclusion of visible light cameras on the Voyager spacecraft. It was deemed by NASA as wasteful since they'd only be able to record that narrow band of light visible to humans. But Sagan insisted on it. He knew that the images it would take would inspire a new generation of scientists to make even greater discoveries.
The endeavor of popularizing science is definitely a daunting one. Our culture has made science look cold and unromantic. Even science undergrads regularly call out any application of scientific reasoning to everyday events as nosebleed-inducing.
It is this sad culture of anti-intellectualism that projects like the Mind Museum aim to correct.
Finishing construction at Bonifacio Global City early next year, the Mind Museum will have 250 exhibits and five galleries, each specializing in a field of science—from the origins of the universe to the technology of one of its inhabitants.
We at Filipino Freethinkers support the vision of the Mind Museum to promote science among the general public. Because of this, we have sponsored an element on their Periodic Table Exhibit—element 87, Francium.  Like a freethinker in a Catholic country, Francium is one of the rarest naturally-occurring elements and, like the Filipino Freethinkers, has virtually no commercial application. Plus, we [Fr]eethinkers liked having [Fr] to ourselves, Breaking Bad style.
Help build The Mind Museum and sponsor some of the exhibits. Apart from the Periodic Table Exhibit, donors can also sponsor stars and even galaxies. Help inspire the next generation of scientists and freethinkers.
(Images from Mind Museum and Wikipedia)