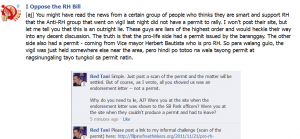 Yesterday, I wrote about how an anti-RH group tried to do a demonstration in SB park without a permit. An anti-RH reader (we probably have a few) responded to the post by doing what the anti-RH seem to do best — lie about it:
[aj] You might have read the news from a certain group of people who thinks [sic] they are smart and support RH that the Anti-RH group that went on vigil last night did not have a permit to rally. I won't post their site, but let me tell you that this is an outright lie. These guys are liars of the highest order and would heckle their way into any decent discussion. The truth is that the pro-life side had a permit issued by the baranggay. The other side also had a permit – coming from Vice mayor Herbert Bautista who is pro RH. So para walang gulo, the vigil was just held somewhere else near the area, pero hindi po totoo na wala tayong permit at nagsinungaling tayo tungkol sa permit natin.
So I issued a simple challenge:
Simple. Just post a scan of the permit and the matter will be settled. But of course, as I wrote, all you showed us was an endorsement letter — not a permit.

Why do you need to lie, AJ? Were you at the site when the endorsement letter was shown to the SB Park officers? Were you at the site when they couldn't produce a permit and had to leave?
I told them to post a link of the scan as a comment on my original post. I won't hold my breath.
To our anti-RH readers, for the sake of Truth (which you seem to have a monopoly on), I humbly ask that you accept this challenge.

Sincerely, a writer of the Site-That-Cannot-Be-Named, a Son of Liar the Old Snake, Red.