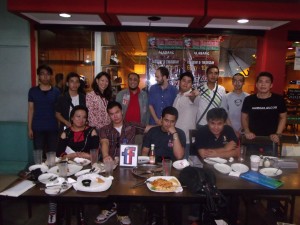 Location: Don Henrico's at Festival Mall, Alabang
Date: Sunday, September 4, 2011
Time: 4pm – 7pm
The Filipino Freethinkers has a group that meets up on alternate fortnights in the south of Metro Manila. If you're from the south and have been missing out on the meetups because of the distance, come down to the south meetup and say hi to your fellow freethinkers! The discussions for this meetup will be facilitated by Simon Pano and Erick Fabian.
Discussion Topics
– Effect of mass media on popular beliefs
– Effect of popular music and the arts on world views
– Effect of technology on music and arts
* Newbies are welcome.
* Look for the FF sign (or the group of smart, sexy people).
* There is no required age, religion, philosophy, or IQ level.
* Discussions are informal yet intelligent (most of the time).
* You don't have to talk; you can just sit in and listen.
* You don't have to buy anything from Don Henrico's.