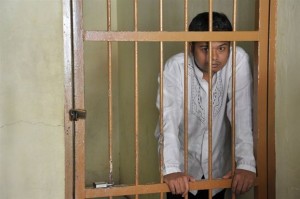 Earlier this year, an Indonesian named Alexander Aan went on Facebook and expressed his doubt of the existence of God. In return,  he was attacked by a mob, arrested, and convicted for "disseminating information aimed at inciting religious hatred or hostility." Many of his countrymen now call for his death.
By arresting Aan, the Indonesian government has violated its agreement to the International Covenant on Civil and Political Rights, which guarantees every person the rights to freedom of belief and expression.
Yesterday, July 17, the Center for Inquiry (CFI) set up an online petition on the White House website urging the Obama administration to call for Aan's release. To ensure a response, the petition must gain 25,000 signatures in 30 days. If you support the freedom of expression, and the freedom of and from religion, then do your part to help free Aan and uphold these rights for every single person.
Sign the petition here.
—
Image from secularworld.net