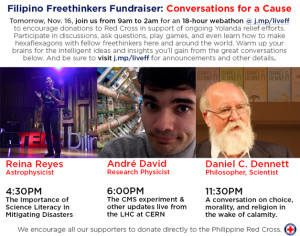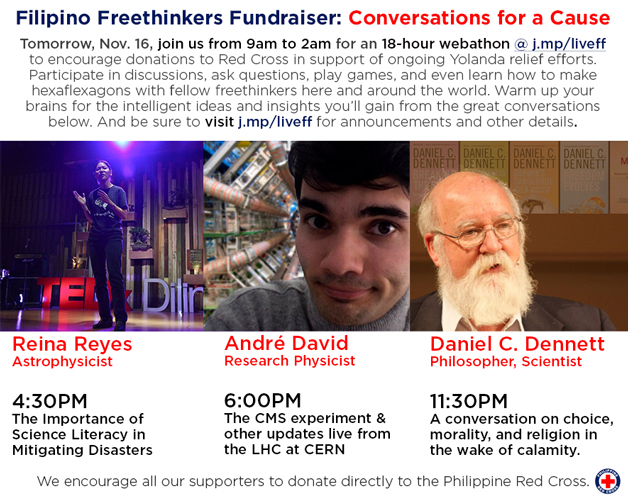 To everyone who made the Filipino Freethinkers Fundraiser possible, thank you:
to those who helped organize and run the event
to those who watched, however briefly
to those who stayed with us the whole day
to those who donated and pledged to donate even more
For our first live online event, it wasn't bad at all: We were online for 18 hours and logged over P60,000 in donations over two days (the Saturday webathon and the Sunday meetup).
As we've explained, the donations went directly to the participants' chosen charitable organizations — usually the Philippine Red Cross.
The interview with Daniel Dennett is already up on our YouTube channel, and we're currently working on the others — an interview with Reina Reyes about the need for Science literacy, and a virtual tour of the LHC at CERN with Andre David.
Videos of the these and other webathon conversations will be available on our YouTube channel soon, but you can already visit our Twitch channel for the unedited broadcasts.
In the following weeks, we'll continue to remind everyone that there's still a long way to go before the Yolanda relief effort is over. The next FF Fundraiser is already in the works, and we're glad to report that we already have a line-up of guests we're sure you'll enjoy:
Dan Ariely
Darrel Ray
DJ Grothe
Edwina Rogers
Greta Cristina
Hemant Mehta
Maggie Ardiente
Michael Shermer
Peter Boghossian
Rebecca Watson
Richard Wade
Russell Blackford
We're still coordinating time slots with them, which is tough because of time zone differences and their busy schedules.
We'll keep you updated as we work out the details, but until then, please remember to do what you can to help — be aware and raise awareness, volunteer and support the volunteers, donate and encourage donations. Let's show everyone the difference our two hands working can make.