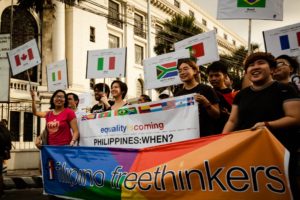 This week, we're bringing our discussions over to the Katipunan Weekend Market! We'll have seating and picnic space at the Bridgeway where it's airconditioned and comfy. Feel free to come by early or stick around afterwards to check out the market goodies!
For more details on the Katipunan Weekend Market, check out their page: [https://www.facebook.com/events/865382573604714/]
Venue: Estancia, Capitol Commons
PWD Friendly? Yes
Date: Saturday, April 15, 2017
Time: 3:00 PM to 6:00 PM
Topics:
-How was Holy Week?
-United Airlines!
-Begging Backpackers http://www.telegraph.co.uk/women/life/backpackers-begging-money-should-ashamed/
-Kadamay [http://www.gmanetwork.com/news/story/606348/news/nation/kadamay-to-call-for-nationwide-distribution-of-idle-housing-units]
-Syrian Civil War [https://en.wikipedia.org/wiki/Syrian_Civil_War]
-Life without contraception [http://cnnphilippines.com/life/culture/politics/2017/03/31/reproductive-health.html]
-Earthquakes and the end of the world
–#ThatsHarassment [https://www.youtube.com/watch?v=W794cMGPafA&feature=youtu.be&list=PLrx4fxhgMUObiys_bKnxZjolXV_bCc2GE]
-Raunchy Topic brought to you by the Vibrator Play [http://j.mp/2ooGQaR]
Guest: Ku Romillo talks about her art and irreverencehttps://www.facebook.com/kuromilloart/
Young Feminist Visions photoshoot http://youngfeminist.org/
After the meetup we usually go for dinner and drinks somewhere nearby. If you're not a meetup regular and can't make it for the meetup but would like to go for the post meetup, please indicate on a post in the wall or comment so we can contact you.
Got questions about the meetup? Contact us at 0928 872 0020 / 0920 975 0092
* Newbies are welcome, and admission to the meetup is free. (Note: this does not apply to the food and other activities we may be having)
* Early birds get to play board/video/party games with the group.
* Look for the FF sign (or the group of smart, sexy people).
* There is no required age, religion, philosophy, or IQ level.
* Discussions are informal yet intelligent (most of the time).
* You don't have to talk; you can just sit in and listen.