We have only five days left 'til the end of the Globe T[email protected] Awards voting period! And thanks to your awesomeness, the Filipino Freethinkers are leading in both their categories (i.e. "The Advocate" and "The One")!
As of this writing, we are totally owning "The Advocate," with approximately 950 votes more than the second placer. In "The One" category, however, it's been nail-bitingly close from the beginning, with only a handful of votes between us and fashion blogger Laureen Uy. We're more or less a hundred paltry votes ahead of her, and while we're sure that the beading on her dress is very pretty, it's frankly too close for comfort. WE NEED MORE VOTES, GUYS! If we win both categories, that's 200,000 pesosesoses that will go to our many projects lined up for reason, science, and secularism.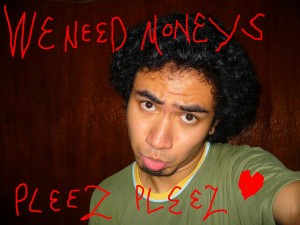 The local Catholic Church has 17.5 BILLION PESOS in its pockets, whereas the Filipino Freethinkers make do with whatever cash — and spare cardboard — we can scrounge up. 200,000 pesos will most certainly go a long way for us.
In light of all this, we have a very special surprise coming up very, very soon — something that quite literally exhibits our thrust to grow and improve as an organization. To help you figure out what this surprise is, we've created a special quatrain a la Nostradamus, legendary bullshitter/bad poet/is-there-a-difference. Many Freethinkers have already been exposed to one BS verse after another, and can see why people interpret these lines the way they do. Can you figure out what this one says? Rest assured that this prediction, unlike everything else predicted by people in robes and funny hats, will come true.
The many thoughts, they have been freed, and rightfully so

In the isles of Philip and beyond , through a gossamer web wrapped across the world.

Yet a new face lays in wait, one cleaner and purer and a salve upon our eyes.

It shall arrive on the morrow, and they who think shall rejoice. 
Whatisitwhatisitwhatisitwhatisit? A kiss from Kenneth to whoever gets it right!