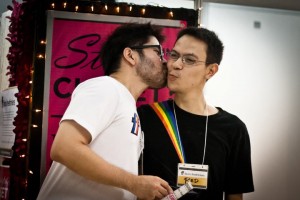 Wait! What's this? FF RH Advocacy Director Kenneth Keng and FF President Red Tani sharing a tender kiss? After all those months of putting up a front, claiming -4 on the Kinsey Scale and trying very hard not to pat each others' asses, they're ending up in a Public Display of Affection? How could this be? What environment could have led them to shed their fears and just admit to their raw, pulsing brahmance?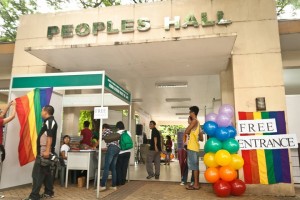 Answer: The 29 Steps for LGBT Human Rights festival, which was held last July 2 at the Quezon Memorial Circle's People's Hall. Presented by the Lesbian Activism Project (LeAP!) and the Embassy of the Kingdom of the Netherlands, the event aimed to promote awareness of the Yogyakarta Principles—a set of principles on the application of international human rights laws on sexual orientation and gender identity issues.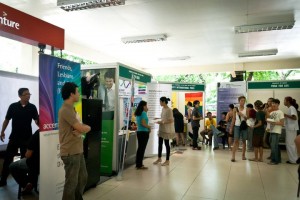 There were film showings, musical performances, and several booths manned by pro-LGBT organizations, the Freethinkers included.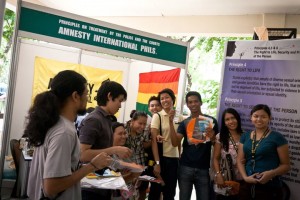 There was international human rights group Amnesty International Philippines, which recently voiced its support for the RH Bill…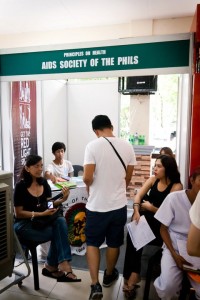 …the AIDS Society of the Philippines…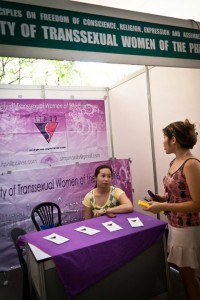 …STRAP, the fabulous Society of Transexual Women of the Philippines, and many other groups out to advocate gender equality and a prejudice-free society.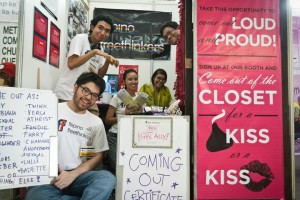 FF wanted a particularly interactive booth, and came up with the "Come Out for a Kiss or a Kiss" concept.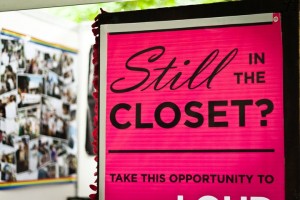 The idea was fairly simple: come out of a literal closet as absolutely anything you desire–gay, lesbian, straight, transgender, Belieber, atheist, hipster, human–and after being cheered on and getting your picture taken with your Coming Out Certificate, you have the choice between a chocolate kiss, or a kiss from one of the Freethinkers.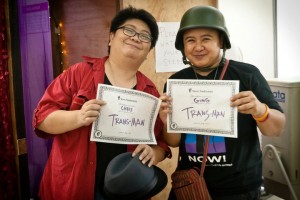 For instance, cheery Ging and Chris came out as Trans-Men…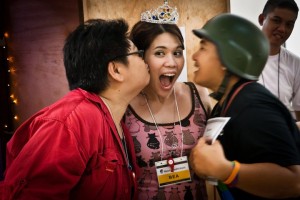 …and got to kiss FF's LGBT Advocacy Director Beatriz Torre!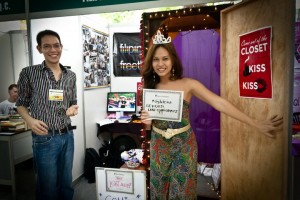 Transgender beauty Magdalena came out as a Gender Non-Conformist…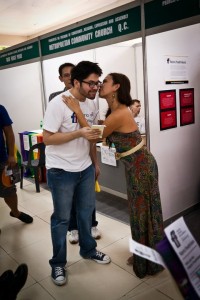 …and got to kiss Kenneth. (As it turned out, Kenneth was a particularly popular choice, and would receive quite a few more kisses as the day went on.)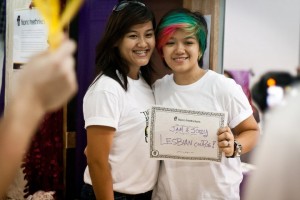 There were several participants who came out in pairs, like lovely lesbian couple Jam and Joey…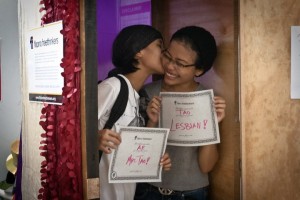 …bewitching singer Tao Aves and her partner AK, who came out as Mrs. Tao…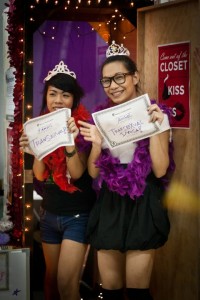 …and super-sexy sisters James and Angel from STRAP, who came out as Transexual Dyosas.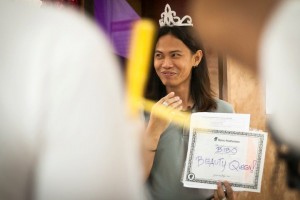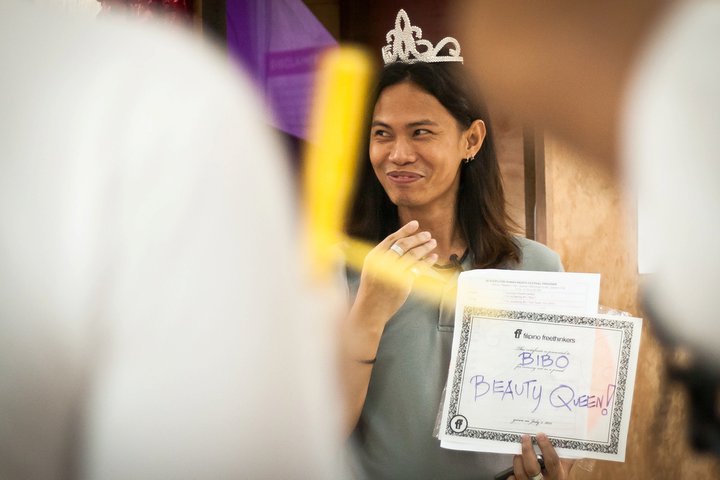 It was also great to have many participants from Deaf Rainbow Philippines (DRP), such as DRP's President Bibo, who came out as a Beauty Queen…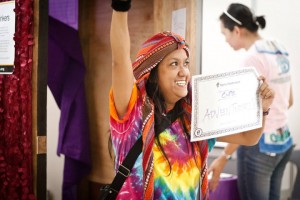 …and Cutz, who came out as an Adventurer.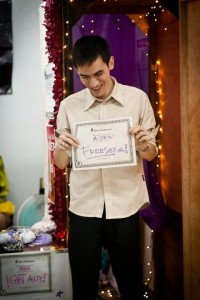 Suffice it to say that lot of people got very creative with their certificates. Aldrin, for instance, came out as a Freesexual.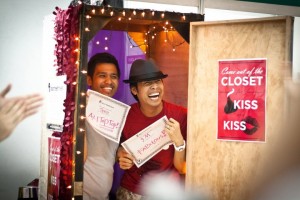 While JM came out as Fabulous, Teng went for specificity and came out as an Ali-Top-Top!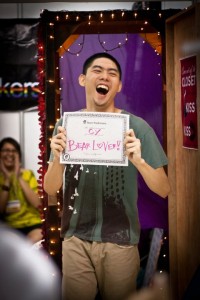 Cy came out as a Bear Lover (as opposed to, say, an Otter or Twink Lover)…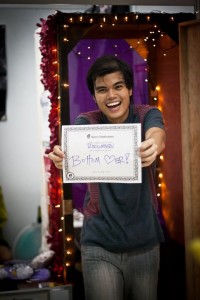 …while Reighben came out as a Bottom Lover! The booth, it seemed, served an excellent secondary purpose as a Want Ad.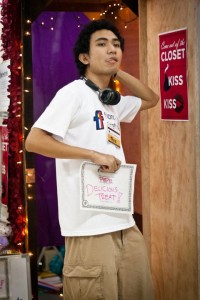 Not to be outdone, Pepe came out as a Delicious Treat to the crowd's libidinous screeching.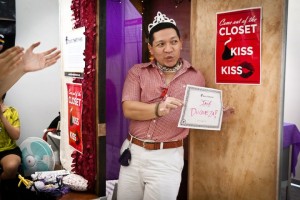 Jack was very particular about his spelling of "Duqueza."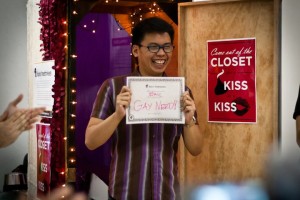 UP Psych Prof Eric did away with the lengthy psych jargon and came out as a Gay Nerd.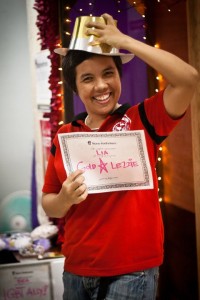 Lia came out as a Gold-Star Lezzie, which she explained was a lesbian who has never had sex with a man. You learn something new everyday!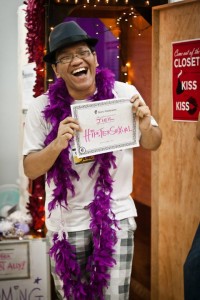 Jeiel came out as a Hipstersexual, which we can only assume entails obscure sexual acts in underground bunkers to the strains of a shoegaze band.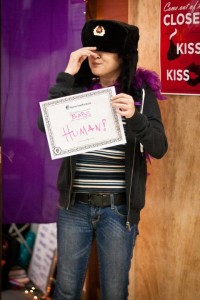 Babs came out as Human. 'Nuff said.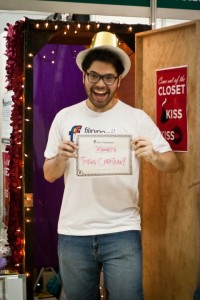 Taking a break from sucking face with strangers, Kenneth came out as a Token Christian.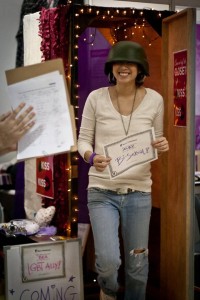 Sexy Lexi from all-girl rock group General Luna went for simplicity and came out as Bi-Sexual…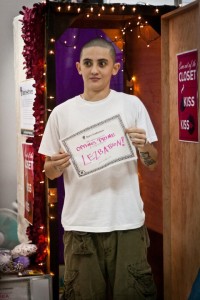 …as opposed to Ena Terol, the event's official photographer, who went by the name Optimus Prime and came out as a Lezbatron.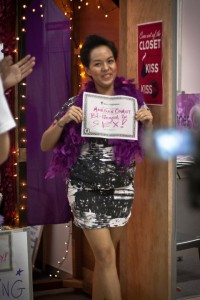 The event's co-host and singer Maegan Aguilar professed to being Bilingual in Sex…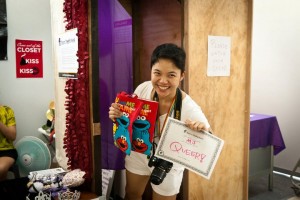 …while Elmo fetishist MJ came out as Queer.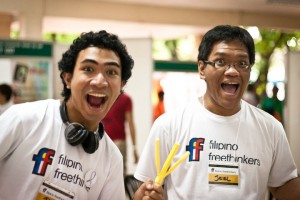 However, there was one particular "out-ing," so to speak, that led these boys to show their unbridled enthusiasm. What, pray tell, could have made these boys so motherfreaking happy?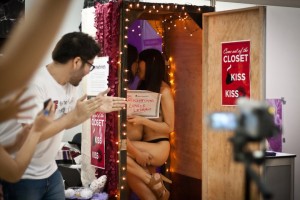 This, of course!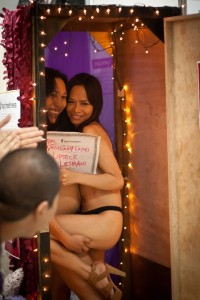 STRAP Founder Sass and her friend Santy came out as Lipstick Lesbians…and how! If that's not coming out, I don't know what is.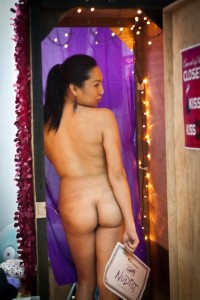 The moment was such fun, in fact, that Santy decided to go for a second round. This time she came out as a Nudist and, well, we don't blame her.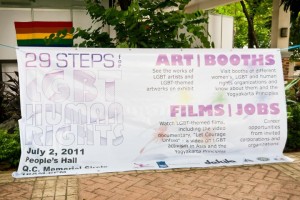 All those sexy silhouettes aside, both the 29 Steps for LGBT Human Rights festival and our Coming Out booth were a definite success. It was very awesome to see everyone taking great pride in who they were, blind to their differences and working together for a Philippines free of bigotry. It was a great way to spend a Saturday.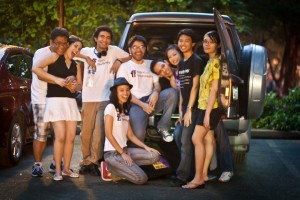 I'll leave you now with a chance photograph of the G-mik Barkada circa 2011. The Pajero in the background was paid for legally.
Did you come out of our booth and have your picture taken? Check out our FB photo album for your special shot! 
(Thanks to Garrick Bercero for the photos!)