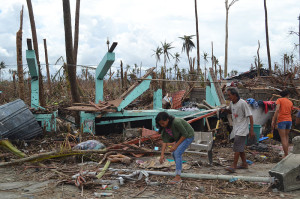 Why would God let calamity hit a predominantly Catholic country? "God is not the cause of the suffering," answers Father Bacaltos, a Tacloban parish priest. "God cannot prevent this. This is the work of nature."
Many Catholics would agree that nature, not God, is to blame for this tragedy. But for some leaders of the Catholic Church, the Reproductive Health (RH) law is to blame. Which leaders? Well, what a coincidence: the ones who are most vocal against RH.
Here's Lipa Archbishop Ramon Arguelles, who campaigned against "Team Patay" through tarps, reminding us that rather than Nature's random acts, calamities like Yolanda (Typhoon Haiyan) are God's reminders. He adds that when we continue to oppose God through the RH Law, we put our lives in danger:
 "What happens to us — earthquakes, floods, storms — are reminders.We are reminded to never forget life… Even our life is in the hands of God so we better make it meaningful… Let us not forget him. We remove Him, for example, in this [RH] law that goes against His will. So when we oppose God, we are in danger." [some parts translated]

And here's Manila Auxiliary Bishop Broderick Pabillo, an anti-RH voice in mainstream media since 2010, explaining why Typhoon Pablo was no coincidence:
"I don't know if it's a coincidence or it's because the Lord is trying to tell us that if you talk about that [the then RH bill] seriously it's like there's a message saying that many difficulties happen to us… especially since we [the Catholic Church] don't want the bill deliberated hurriedly and secretly so that it is passed." [translated]
Finally, here's Father Melvin Castro, who frequently heads anti-RH contingents during demonstrations and vigils, blaming the RH Bill for the heavy rains of "Habagat:"
"Although we would not give other meaning to it, nonetheless God speaks through his creation as well. Nature tells us to respect the natural course of things."
If I researched further back in time, I'd probably find even more Church leaders who blamed calamities on God (or the people who disobey God, depending on how you look at it). And something tells me it's only a matter of time before some distasteful CBCP leader does it again.
But there are priests, like Father Bacaltos, who are more tactful, more humble, and it's Catholic leaders like these that I continue to respect. As Susan B. Anthony, a leader of the women's suffrage movement, said:
I distrust those people who know so well what God wants them to do to their fellows, because it always coincides with their own desires.
***
image source: Trocaire