11 deaths a day. From a mere statistic it has become a mantra of the reproductive health (RH) movement. No matter how often it is repeated, 11 deaths a day still moves many to action and some to tears.
Yet the anti-RH — led by the Catholic Bishops Conference of the Philippines (CBCP) and anti-choice Catholic organizations — doesn't seem to care about 11 deaths a day. Some, such as Senator Sotto and his supporters, have more disparaging reactions, ranging from mere denial to outright ridicule.
Invariably, the anti-RH believe they are never responsible for 11 deaths a day. Yet even if they eventually realize that their anti-contraceptive position is indirectly responsible for thousands of maternal deaths — and even more due to AIDS and hunger, casualties that can also be minimized by effective contraception and sexual education — the realization wouldn't make much of a difference.
Because for these anti-RH conservative Catholics, protecting human lives is not as important as respecting God. The act of disrespecting God — and the Church that claims to represent him — is called blasphemy:
Blasphemy is directly opposed to the second commandment. It consists in uttering against God – inwardly or outwardly – words of hatred, reproach, or defiance; in speaking ill of God; in failing in respect toward him in one's speech; in misusing God's name… The prohibition of blasphemy extends to language against Christ's Church, the saints, and sacred things.
— Catechism of the Catholic Church
The Gravity of Blasphemy
St. Thomas Aquinas, whose teachings also form the basis for opposing the RH bill, taught that blasphemy is a mortal sin punishable by death. For Aquinas, there's no contradiction in killing someone for blasphemy, because he believed that blasphemy was even worse than murder:
If we compare murder and blasphemy as regards the objects of those sins, it is clear that blasphemy, which is a sin committed directly against God, is more grave than murder, which is a sin against one's neighbor. On the other hand, if we compare them in respect of the harm wrought by them, murder is the graver sin, for murder does more harm to one's neighbor, than blasphemy does to God. Since, however, the gravity of a sin depends on the intention of the evil will, rather than on the effect of the deed, as was shown above, it follows that, as the blasphemer intends to do harm to God's honor, absolutely speaking, he sins more grievously that the murderer.

— St. Thomas Aquinas, Summa Theologica
If blasphemy is worse than murder itself, it is surely worse than merely letting mortals die. So it doesn't matter if maternal deaths — or deaths due to poverty and AIDS — do infinitely more damage to people and the families they leave behind; no damage can be dealt to an immortal deity. What matters to Aquinas is the intention, not the effect; the gravity of the sin, not its actual consequences. Blasphemy must be avoided at all costs — even if the cost is suffering and death.
The Speckled Monster in Montreal
In 1885, one of the most horrible examples of avoiding blasphemy at the cost of human lives happened during the smallpox epidemic in Montreal, Canada. Smallpox was also called the "red death" and the "speckled monster" because of how it stained and ultimately killed its victims:
No pestilence had ever been so fatal, or so hideous. Blood was its Avatar and its seal –the redness and the horror of blood. There were sharp pains, and sudden dizziness, and then profuse bleeding at the pores, with dissolution. The scarlet stains upon the body and especially upon the face of the victim, were the pest ban which shut him out from the aid and from the sympathy of his fellow-men. And the whole seizure, progress and termination of the disease, were the incidents of half an hour.

— Edgar Allan Poe, The Masque of the Red Death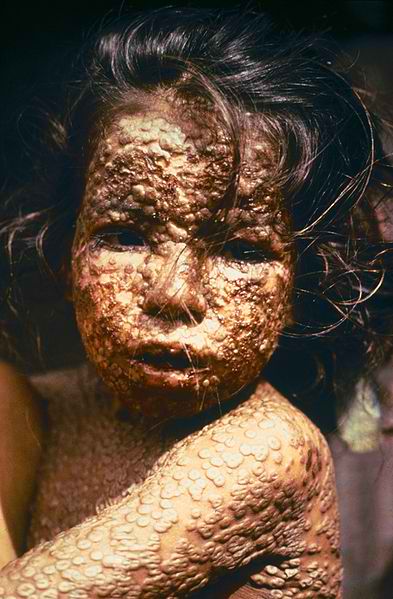 Although he wrote one of the most poetic descriptions of the disease, Poe was wrong about one thing: It was not fear of their appearance that kept the diseased from the aid and sympathy of their neighbors. It was dogma — the fear of blasphemy.
If the Catholic Church hadn't used dogma to meddle with the government trying to contain the disease, many lives would have been saved. As James H. Marsh, editor in chief of The Canadian Encyclopedia, wrote, this is the real tragedy:
Smallpox is one of the most contagious and loathsome diseases ever to menace humanity. But the real tragedy of the smallpox epidemic in Montreal was that it was preventable. The practice of vaccination, developed by Edward Jenner in England in 1796, was so widespread and so successful that it was widely believed that the disease had been eradicated.
Deaths that can be prevented. By a scientific solution. That has already become so widespread and successful. Sound familiar?
Red Death and Reproductive Health
When it comes to the Catholic Church, history often repeats itself. Contraception is not the first scientific solution to a serious problem that bishops have blocked because they considered it blasphemous. Many examples of this meddling are recorded in Andrew Dickson White's History of the Warfare of Science with Theology in Christendom. The book chronicles how the Church prevented progress in several sciences — geography, astronomy, geology, archeology, anthropology, biology, meteorology, chemistry, physics, medicine, and many others.
In each instance, the story would be the same:
Someone proposes a theory that is contrary to Church teaching — dogma, doctrine, or tradition.
The Church does everything in its power — blackmail, torture, murder — to oppose inquiry into and development of the theory.
Accepting or even considering the theory becomes difficult — especially when reputations and lives are at stake.
After unnecessary delay, the scientific community — and then society in general — accepts the theory and develops it further.
After even more delay, from years to centuries, the Church finally accepts the theory.
This pattern is especially pernicious when the Church hinders progress in Medicine. When it comes to medical progress, delay is measured not only in time wasted but in lives lost. The smallpox epidemic in Montreal struck me especially because it's so similar to our RH experience. Below is White's account interspersed with my comments, comparing Montreal's experience with ours:
In that year [1885] the smallpox broke out with great virulence in Montreal. The Protestant population escaped almost entirely by vaccination; but multitudes of their Catholic fellow-citizens, under some vague survival of the old orthodox ideas [1 paste below the early protestant theological basis of the old orthodox ideas], refused vaccination; and suffered fearfully.
Many who have escaped Catholic brainwashing already use contraception effectively. More than their conservative counterparts, contraception users are capable of reaching their desired family size, avoiding HIV and AIDS, avoiding induced abortions, and preventing infant and maternal deaths.
When at last the plague became so serious that travel and trade fell off greatly and quarantine began to be established in neighboring cities, an effort was made to enforce compulsory vaccination. The result was, that large numbers of the Catholic working population resisted and even threatened bloodshed.
11 maternal deaths a day, 500,000 induced abortions a year, and 7 new HIV cases a day should be enough to convince us: the RH bill is badly needed. And unlike vaccination, contraception will not even be compulsory. Yet the resistance was just as intense: from misinformation and fear mongering to threats of revolution and civil disobedience.
The clergy at first tolerated and even encouraged this conduct [threatening bloodshed]: the Abbe Filiatrault, priest of St. James's Church, declared in a sermon that, "if we are afflicted with smallpox, it is because we had a carnival last winter, feasting the flesh, which has offended the Lord; … it is to punish our pride that God has sent us smallpox."
This is no different from religious leaders saying that HIV and AIDS are god's punishment for promiscuity, homosexuality, and even contraception. This also reminds me of an anti-RH lecture, wherein the lecturer said that the disaster in Japan was sent by God to punish them for having population control.
The clerical press went further: the _Etendard_ exhorted the faithful to take up arms rather than submit to vaccination, and at least one of the secular papers was forced to pander to the same sentiment.
Rather than cooperate, the anti-RH threatened to react with revolution, civil disobedience, or by not paying taxes. And instead of just one secular paper pandering to the anti-RH, I've read several columnists and cartoonists whose opinion seems to be based on nothing but Catholic bias.
The Board of Health struggled against this superstition, and addressed a circular to the Catholic clergy, imploring them to recommend vaccination; but, though two or three complied with this request, the great majority were either silent or openly hostile.
Instead of helping the DOH educate those at risk, the CBCP and anti-choice organizations instead give out misinformation about contraceptives: they don't work, they all cause cancer, they are abortifacients. They even said the RH Bill is worse than corruption.
The Oblate Fathers, whose church was situated in the very heart of the infected district, continued to denounce vaccination; the faithful were exhorted to rely on devotional exercises of various sorts; under the sanction of the hierarchy a great procession was ordered with a solemn appeal to the Virgin [2], and the use of the rosary was carefully specified.
By the time rosary was recommended, prayer had already been shown to be ineffective in other parts of the world. Inoculation and vaccination, on the other hand, had already saved countless lives. [3]
Maternal deaths, abortions, HIV, poverty — what does the Church recommend to solve today's problems? Prayer. Faith, abstinence, natural family planning — we've tried these solutions and they've been shown to be inadequate at best, and outright failures at worst. And instead of just praying for solutions, the Catholic Church is even asking its flock to pray against the RH Bill, the most valid solution in sight.
Meantime, the disease, which had nearly died out among the Protestants, raged with ever-increasing virulence among the Catholics; and, the truth becoming more and more clear, even to the most devout, proper measures were at last enforced and the plague was stayed, though not until there had been a fearful waste of life among these simple-hearted believers, and germs of skepticism planted in the hearts of their children which will bear fruit for generations to come.
Like the other stories in White's book, there was a happy ending for Montreal. But not before they paid the price. Smallpox is considered by many to be the most devastating disease known to man, killing more people than all other infectious diseases combined. The Catholic Church may not have known the extent of the devastation and the effects of their dogmatism then. But history and hindsight are now on their side.
True Blasphemy
They have a chance to learn from the smallpox tragedy for which they were indirectly responsible. But it seems they are content to continue committing the same mistakes. How much suffering and death must humanity pay before the Catholic Church finally learns that protecting human lives is more important than respecting an immortal God? And if there were a God, and if that God were good, I'm sure she'd agree.
If there were a good God, she'd take more offense at the Catholic Church's hypocrisy: claiming to have the Truth while they continue to lie about contraception; claiming to be against corruption while they're in cahoots with corrupt officials; claiming to be against poverty while they have billions they choose not to use for the poor; claiming to be experts on morality while they cover up and coddle clerical child abusers.
These hypocrites are the earthly representation of divine truth and righteousness? Now that's blasphemy.
______________
[1] Theological Opposition to Inoculation and Vaccination
Below are excerpts from History of the Warfare of Science with Theology in Christendom showing how dogma made it difficult to accept inoculation and vaccination:
Rev. Edward Massey, who in 1772 preached and published a sermon entitled _The Dangerous and Sinful Practice of Inoculation_. In this he declared that Job's distemper was probably confluent smallpox; that he had been inoculated doubtless by the devil; that diseases are sent by Providence for the punishment of sin; and that the proposed attempt to prevent them is "a diabolical operation."

Not less vigorous was the sermon of the Rev. Mr. Delafaye, entitled _Inoculation an Indefensible Practice_.

A large body of ministers joined in denouncing the new practice as "flying in the face of Providence," and "endeavouring to baffle a Divine judgment."
Having thus settled his case for this world, they proceeded to settle it for the next, insisting that "for a man to infect a family in the morning with smallpox and to pray to God in the evening against the disease is blasphemy"; that the smallpox is "a judgment of God on the sins of the people," and that "to avert it is but to provoke him more"; that inoculation is "an encroachment on the prerogatives of Jehovah, whose right it is to wound and smite."

Among the mass of scriptural texts most remote from any possible bearing on the subject one was employed which was equally cogent against any use of healing means in any disease–the words of Hosea: "He hath torn, and he will heal us; he hath smitten, and he will bind us up."

So bitter was this opposition that Dr. Boylston's life was in danger; it was considered unsafe for him to be out of his house in the evening; a lighted grenade was even thrown into the house of Cotton Mather, who had favoured the new practice, and had sheltered another clergyman who had submitted himself to it.

"It was good that Satan should be dispossessed of his habitation which he had taken up in men in our Lord's day, but it was not lawful that the children of the Pharisees should cast him out by the help of Beelzebub. We must always have an eye to the matter of what we do as well as the result, if we intend to keep a good conscience toward God." But the facts were too strong; the new practice made its way in the New World as in the Old, though bitter opposition continued, and in no small degree on vague scriptural grounds, for more than twenty years longer.

The steady evolution of scientific medicine brings us next to Jenner's discovery of vaccination. Here, too, sundry vague survivals of theological ideas caused many of the clergy to side with retrograde physicians. Perhaps the most virulent of Jenner's enemies was one of his professional brethren, Dr. Moseley, who placed on the title-page of his book, _Lues Bovilla_, the motto, referring to Jenner and his followers, "Father, forgive them, for they know not what they do": this book of Dr. Moseley was especially indorsed by the Bishop of Dromore. In 1798 an Anti-vaccination Society was formed by physicians and clergymen, who called on the people of Boston to suppress vaccination, as "bidding defiance to Heaven itself, even to the will of God," and declared that "the law of God prohibits the practice." As late as 1803 the Rev. Dr. Ramsden thundered against vaccination in a sermon before the University of Cambridge, mingling texts of Scripture with calumnies against Jenner;
[2] The Church's Failed Smallpox Solution: Devotion to Mother Mary
At high mass, yesterday, in the Roman Catholic Cathedral, the Rev. Father Emard read the Papal decree, which is considered as applying to the smallpox epidemic in Montreal, and which was issued by his Holiness Pope Leo XIII… The decree alludes to the ravages of epidemic and plagues among the faithful throughout the world last year, and impresses upon Roman Catholics the efficiency of prayer in crushing these regrettable calamities.

To Mary, therefore, we must fly – to her whom rightly and justly the Church entitles the dispenser of saving, aiding, and protecting gifts – that she, graciously hearkening to our prayers, may grant us the help they besought, and drive far from us the unclean plague.

— Leo XIII
[3] The Effectiveness of Vaccination
In Berlin, during the eight years following 1783, over four thousand children died of the smallpox; while during the eight years following 1814, after vaccination had been largely adopted, out of a larger number of deaths there were but five hundred and thirty-five from this disease. In Wurtemberg, during the twenty-four years following 1772, one in thirteen of all the children died of smallpox, while during the eleven years after 1822 there died of it only one in sixteen hundred. In Copenhagen, during twelve years before the introduction of vaccination, fifty-five hundred persons died of smallpox, and during the sixteen years after its introduction only one hundred and fifty-eight persons died of it throughout all Denmark. In Vienna, where the average yearly mortality from this disease had been over eight hundred, it was steadily and rapidly reduced, until in 1803 it had fallen to less than thirty; and in London, formerly so afflicted by this scourge, out of all her inhabitants there died of it in 1890 but one. As to the world at large, the result is summed up by one of the most honoured English physicians of our time, in the declaration that "Jenner has saved, is now saving, and will continue to save in all coming ages, more lives in one generation than were destroyed in all the wars of Napoleon."

— Andrew Dickson White, History of the Warfare of Science with Theology in Christendom