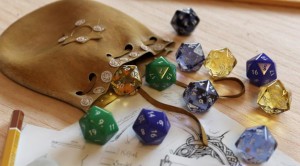 I got into Role-playing Games when I was around 11. We were middle class but on the stingy side. Our parents were starting up their business and we had to cut a lot of corners when it came to toys. So we played imaginary games. My brothers and I learned about DnD from the cartoon, comic book ads, and fantasy fiction in movies and anime in the 80s. We bought a very discounted but original DnD computer game at around 1990, but it was so old it was broken. My brothers and I only had the manuals and we liked the ideas so much we used it as the baseline for our imaginary games.
We studied in Alabang while living in San Juan. Our parents, struggling with their business, made us stay with them in the office. After class it was about another 3-4 hours before we got home. That was when we would play RPGs a lot. We didn't have dice and we didn't know what it was called. It was a year later that I found out that it was called RPGs and what DnD was all about from my classmates who spent summers in the US.
Role-playing was cheap, forced us to read a lot, and all other tools was left to our creativity and imagination. It was a game I played with my brothers and brought us very close.
It eventually became the focus of my career choice, taking up Multi-Media Arts specializing in Game Design and writing a 19C Philippine Historical Role-playing Game for my thesis.
Fast-forward to today. Role-playing has become a powerful business critical thinking technique. As game theory unraveled the complex interactions among individuals and organizations with mathematics, it highlighted the ability of empathy to intuitively make sense of these complex interactions. It has become a structured exercise for developing one's empathy, honing it to better take in the character of another person and to generate ideas with the shift in perspective.
Sample Role-plays from Harvard Business School Press
Teaching business, management and strategy through role-playing a Scientific Journal
Teaching Empathy through Role-playing Exercise from the American Humanist Association.