I recorded this video interview with Frank when I got home from COMELEC before writing this post. Some details might be inaccurate, which I hope this post corrects. Toward the end of the video is footage of the BUHAY spokesperson saying the titular statement.
"Your mothers should have aborted you" is so 2010. I'm of course referring to members of Prolife Philippines wishing out loud that we hadn't been born as we were leaving Manila Cathedral. We were there to listen to a discernment mass on the RH Bill, but weren't allowed to attend because of the DAMASO shirts we were wearing. Aside from wishing we weren't alive, a public exorcism on us was also attempted by Eric Manalang, president of Prolife Philippines.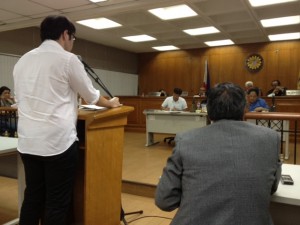 Now it's 2012, and the Prolife greeting has been updated. It now goes, "Your mother should have used RH." We learned this yesterday when we expressed our opposition to BUHAY's party-list accreditation at their COMELEC review hearing. After witnessing the most absurd justification for applying to be a party-list, we had an exchange of words with BUHAY that reflects a lot of what happened in the Manila Cathedral incident of 2010.
It began with a question. The BUHAY spokesperson who had represented them during the hearing approached us and asked, "Are you pro-RH?" "Yes," answers Kenneth Keng, who had earlier expressed at the hearing our intention to oppose BUHAY's accreditation. "Then your mother should have used RH. So you wouldn't be here today."
At this point, I was approached by another BUHAY member. "Did you go to school?" he asked. "Yes," I replied. "Then why aren't you using your education," he said. He probably meant that my pro-RH position betrayed a lack of education.
I was about to explain how education actually leads to being pro-RH when I saw Ken being approached by several BUHAY members. They were trying to grab his camera away from him. I walked over and learned what was happening. The BUHAY spokesperson complained that Ken had started recording without his permission.
They had also asked whether Ken was with the media. Ken had initially said yes out of fear and confusion; their demeanor had given him the impression that they might harm him. He later clarified that he wasn't with the media and was just a regular blogger, something that I'd clarified earlier with the BUHAY member I'd been speaking to.
At this point we were all huddled between the elevators and the COMELEC reception, where several security personnel were watching. The BUHAY member I'd been speaking to, the one who asked whether I was educated, started talking. He said that if we weren't with the media, he doesn't have to treat us that way, and can just treat us like kanto boys. He repeated this, removing his coat as if preparing for a fight. He told us that he would meet us at our levels as kanto boys and invited us outside.
I clarified: "Just to be clear, are you inviting us to a fist fight outside?" He replied, "Anywhere." I was actually surprised that he was behaving like this in front of COMELEC security. When they finally got on the elevator, we decided it was probably wise that we stayed. Some members of the COMELEC security thought so, too. They advised us to stay for a bit because the BUHAY members might be waiting for us downstairs with less than good intentions.
Surely enough, they were waiting. As I was exiting the building, the BUHAY spokesperson blocked my path, holding a cameraphone to my face. "Excuse me, I need to get out," I said. He stands aside after a few moments, keeping the cameraphone on me. He asked me for my name and organization, and I give it to him. At this point, Ken also has his cameraphone out, and we were recording each other (another member had a proper camcorder, too).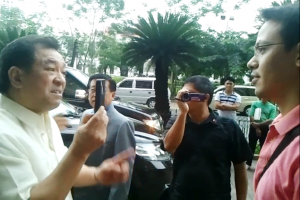 With all the cameras turned on I wished that Ken's was on when the BUHAY spokesperson wished Ken's mother had used RH. Luckily, he repeated his wish, and we got it on video. At first he said that he didn't mean anything bad when he said this. After all, he says, isn't RH a good thing? To this we agree, and I further explain that my parents used RH: after all, it includes family planning, birth spacing, etc.
Then he says that my parents used failed RH, because after all, I am here. By doing so he betrays the malice in his wish. To him failed RH means we are born, and successful RH means we aren't, and it's pretty clear which of the two outcomes he'd been wishing for us.
We explain that RH isn't abortion, which is what he keeps on implying, but he disagrees. He advises us to read the Cairo conference. I explain that the RH Bill and the Cairo Conference are two different things. At this point Atty. Macalintal, who had been mostly quiet this time, left in a car with the BUHAY member who had challenged us to a fist fight.
We also headed for our car, leaving the BUHAY spokesperson alone, waiting for his. As we were leaving, I saw the Manila Cathedral and thought about how similar the event from 2010 was: the wishing we hadn't been born, the prolifer's fear of being caught on video, the trying to forcefully take our cameras. I sort of expected the BUHAY spokesperson to shout "Your mothers should have aborted you!" as we were leaving. But then I corrected myself: "Your mothers should have used RH." Because "Your mothers should have aborted you" is so 2010.