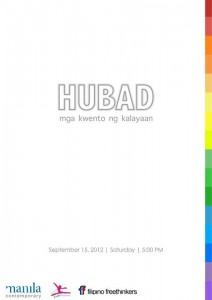 September 15, 2012— Makati City— Lesbian Activism Project, Inc. (LeAP)*, in collaboration with the Filipino Freethinkers**, will stage a performance at the Manila Contemporary on September 15, 2012 as part of the line-up of activities for the Queer Manila exhibit.
Hubad is inspired by the 2007 production, The Coming Out Monologues (TCOM) of the University of California Riverside. Originally produced by the university's lesbian, gay, bisexual, transgender and queer (LGBTQ) organization, TCOM has since been staged in several other universities in the US and Canada. For the first time, LeAP takes this concept and gives it a Filipino spin as a way of spurring discussions on coming out as LGBTQ.
Touching, heartbreaking, and at times funny, Hubad is a collection of narratives originally written by Filipino LGBTQ activists, students and professionals. Both personal and political, these stories of coming out of the closet inform us of how they negotiate, sometimes wrestle with, identities in order to gain recognition and acceptance from their families, friends and the self.
"Hubad, the Filipino term for undressing, is about moments of daring to bare the self that is at once a means— and is in itself the end— to achieving true freedom," says Ira Briones, chairperson of LeAP.
This will be the first of a series of performances that will be held all throughout the months of September and October. The succeeding events will be guerrilla-style in unidentified locations—the clues of which will be posted on facebook.com/LeAPPhilippines.
Manila Contemporary is located at Whitespace 2314, Pasong Tamo Extension, Makati City. The performance starts at 5:00 pm. Entrance is free.
Contact:
Tao Aves
Project Head for Hubad—Lesbian Activism Project, Inc.
0917-509-43-86/ [email protected]
About Queer Manila:
Queer Manila is an ongoing exhibit that attempts to create a visual discussion around gender and sexuality within local contexts and internationalised LGBT discourse. It explores the understandings, misunderstandings, conflicts, humours, loves, eroticisms, deviances, spectacles, and dilemmas within Lesbian, Gay, Bi-Sexual and Transgender identities. Queer Manila runs until September 15.
*Lesbian Activism Project, Inc. is a non-stock, non-profit organization of lesbian, bisexual and queer women that fight for the recognition of LGBT Human Rights.
**Filipino Freethinkers is the largest and most active organization for freethought in the Philippines that aims to promote reason, science, and secularism as a means of improving every Filipino's quality of life.