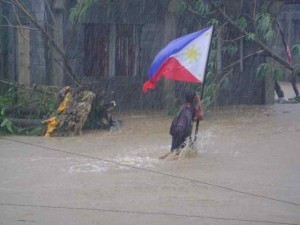 Pictured above is Janela Arcos Lelis, a 12-year-old schoolgirl from Albay province. That's really her, on a very stormy day last July 26, risking life and limb to save the Philippine flag. The flag had been left behind in their already-submerged home. To keep her from getting swept away by the raging flood, Janela held on tightly to a rope hastily set up for evacuees. Her deed accorded her various honors — a plaque, a miniature flag pin, a full-sized flag, and Php 20,000 from the National Historical Commission of the Philippines (NHCP), not to mention quite a bit of media coverage. According to NHCP Executive Director Ludovico Badoy, what Janelis did was
"a selfless act of courage, reflective of her love for country and a constant reverence to the national symbol."
In the awarding ceremony, NHCP President Maria Teresa Diokno told Janela,
"…we hope that your classmates and all the other young people in the country will follow your wonderful example of giving tribute to our national flag."
The NHCP's heraldry chief Teodoro Atienza claims that in his 30 years of service, he had never come across anyone who dared to risk their life for the Philippine flag.
With all due respect, Mr. Atienza, no one had ever dared to risk their life for a piece of cloth before because it is a really, really, really bad idea. Just to refresh your memory, a young human being's life is infinitely more valuable than a large piece of cloth, no matter what it represents. And Ms. Diokno, your wording is a bit distressing. Some young men and women might misconstrue that as encouragement to forsake shelter in the midst of calamity just to save other physical symbols of our nation, in the hopes of receiving praise, attention, and maybe a decent-sized check.
What Janela did was born out of naivete, and one can't help but wonder why her deed generated such a response. It could be the culture of "Pinoy Pride" that permeates many aspects of the average Filipino child's life, from her schooling to the mass media she consumes. It is a culture of being absolutely ecstatic at the thought that some random half-Filipino American citizen who has never stepped foot on the motherland, so to speak, passed the first round of auditions on American Idol. It is a culture of taking pride in taking pride, of looking at our poorly developed, horribly managed, amnesiac country through thick, rose-colored glasses. Saving a flag in the midst of a flood that could have been avoided had the town been better planned in the first place? That seems to fit into this kind of culture just fine.
It must be noted that Janela did not do her deed entirely of her own volition. Her elder brother, a Citizen's Army Training officer in the local high school, was actually the one who told her to fetch the flag from their waterlogged home. Why didn't he do it himself? Because he was busy helping his relatives evacuate from their homes. (He has priority issues, that one.)
Janela complied not only because of the notion that the flag deserved utmost care and respect, as drilled into her in the classroom, but because she was afraid her brother would be berated by the school and have to pay for it if it got lost. The latter, in fact, seems to be the more plausible — yet still quite faulty — excuse behind her daring-do. People do stupid things for money and good repute. In fact, it's quite possible that the whole nationalist hullaballoo was purely manufactured by the government and media after the fact, and Janela only did the deed because she just happened to be the kind of blindly obedient girl from a poor family who'd feel that she had no other choice in the matter.
Whatever the case may be, NHCP's trumpeting of Janela's misguided act was a bad move. No, Janela should not be berated for what she did; she just didn't know any better. But neither should she have been the subject of so much pomp and circumstance. She should have simply been told that her show of selflessness was admirable, but that next time, she should prioritize her own life in such dire circumstances. She needs to be made to understand the illogic behind her deed in as kind a manner as possible, and that's it.
For the NHCP to make such a big fuss over this smacks of opportunism and nothing more. These people are adults; unlike Janela, they do know better. To praise her, and to tell the youth that they should follow her example, is sickeningly irresponsible. There are infinitely better ways to promote a love of country like, oh, say, encouraging people to do what they can to make the place actually worth fighting for, for starters. The men and women of the National Historical Commission of the Philippines should very well know that the country has remained in a poor state for the longest time, and that this has a lot to do with our tendency to make the same fatal mistakes over and over again, with one of these mistakes being our refusal to see the country for what it is and simply aggrandizing the most trivial things in the name of "pride."
Likewise, the media's eagerness to make NHCP's fuss-making more public was a bad move. And as we have learned from the whole Poleteismo brouhaha, where their sensationalism took the country down an especially dangerous path, they don't really seem to care that it was a bad move.
I can only hope that Janela eventually understands why what she did didn't deserve all that praise and attention. The flood she braved was much murkier than she thought, and far harder to get out of alive.