Starting from a handful of people who (figuratively) killed sacred cows at (relatively) civilized Starbucks meetups, the Filipino Freethinkers have evolved into something far greater, but what that something was had yet to be pinned down. Thus, the First Filipino Freethinkers General Assembly was called last April 2 to address FF's current state, what the group wanted it to become, and how the group would steer it in the right direction.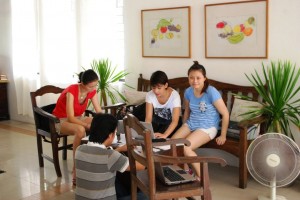 Our registration booth!
We were pleasantly surprised to find several newbies and second-timers in attendance, such as Angeli, Brian, Tim, Christina, Vin and Coli, whose fresh perspectives certainly helped the old fogeys amongst us see the group in a clearer light.
One misconception they brought up was that FF was composed solely of atheists; in truth, FF is a really mixed bag, composed of different people with varying beliefs. What truly brings our motley crew together is a shared passion for reason, science, and secularism.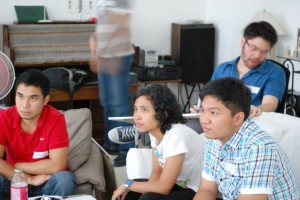 Second-timer Angeli flanked by (German-trained early bird) Brian, and Tim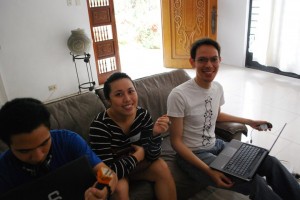 Cristina flanked by Direk Pepe and Papa Red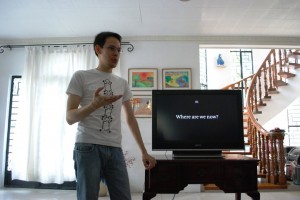 Red recapping the FF's milestones
FF President Red pointed out how far the group had come since the very first meetup in February 2009. When before meetup turnouts blew hot and cold, we now have a solid 30-40 members per session, which always includes a number of first-timers. Our online presence has been growing stronger and stronger as well; our Facebook members, for instance, have tripled in number in just one year.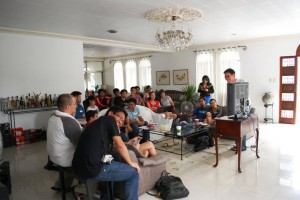 The group watches a video clip from FF's Women's Day performance
Most importantly, FF has become exponentially busy outside of coffee shops and cyberspace. From the Manila Cathedral "exorcism," to the Excommunication Party, to the LGBT Pride March, the group has taken a more active stand for freethought, and has found like-minded individuals and organizations to collaborate with in a variety of projects.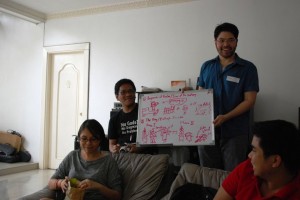 Ken displays the illustrated plans for the Women's Day performance
Recently, FF has been particularly occupied in the fight to pass the RH Bill, especially in tandem with fellow groups in the Reproductive Health Advocates Network (RHAN). In just the past few months, the group has taken part in several pro-RH endeavors, such as the Memorial March for Mothers, the aforementioned Women's Day March, and the demonstration during the Ayala Alabang ordinance hearing; and has also attended pertinent hearings at the House of Representatives.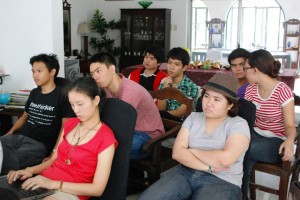 Members from the FF university chapters
The group itself has also been branching out into university and provincial chapters. FF-UP Diliman is an official organization on campus, and FF-UP Manila is gunning for accreditation as well. Freethinkers from other universities are also making efforts to band together, and members in Davao and other provinces have also been holding their own meetups.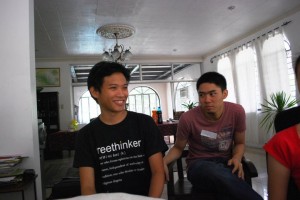 Outgoing FF-UP Diliman President Garrick, and his sticky-eyed successor, Cy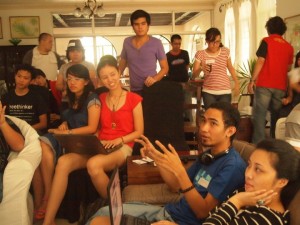 Direk Pepe (auteur of high-brow cinema), giving his two cents
Once everyone was up to speed, the strategy planning commenced, with members discussing what they would like FF to become, and what the group needed to do to achieve these goals. In the end, the group's objectives remained the same–to be purveyors of reason, science, and secularism; to strive for a society where freethought is a normal, accepted, and widely practiced notion–while its means to do so have become more pro-active than ever before. While discourse is still an intrinsic aspect of the group, honest-to-goodness action and advocacy now holds immense importance as well, and hopefully, FF will be able to make a greater impact on its environment in the near future.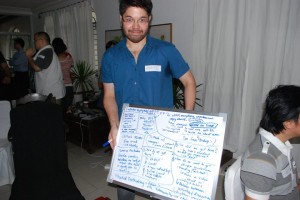 Ken, whiteboard fetishist, shows off the day's notes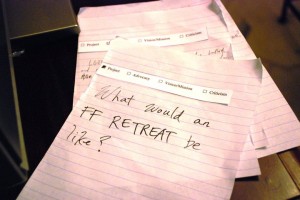 Comments? Suggestions?
Attendees scribbled thoughts and suggestions down throughout the assembly, and also signed up for committees for particular causes such as LGBT rights, the RH Bill's passage, and better education.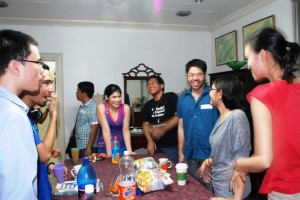 Members chow down on chips post-assembly (with plenty of Marty's to go around for the vegans and pescies)
The assembly was adjourned soon after, and members got into the requisite mingling and getting annihilated by Red and Tin on Wii Tetris.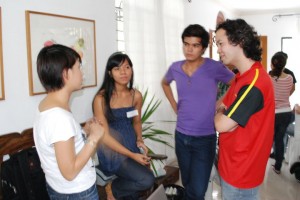 Liz, Coli, Reighben, and Wes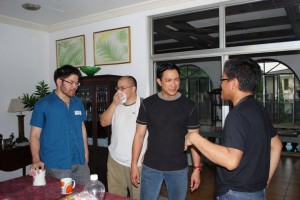 Global News Network's Buddy Cunanan (3rd from left) chats with FF's online kahuna Jeiel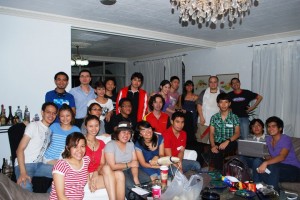 All in all, the first Filipino Freethinkers General Assembly generated plenty of valuable ideas and riled members up for the group's future. FF has achieved quite a lot in a short amount of time, and it is up to all of us to ride on this momentum and steer the group towards bigger, more awesome opportunities for freethought in the Philippines.