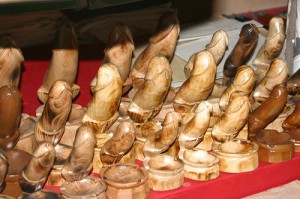 An artist puts a penis on a poster of Jesus and on a symbol of the Christian cross. A priest puts a penis inside the mouth and vagina of a 17-year-old girl. Which is more offensive? Which is more deserving of a Christian's disgust and damnation?
When conservative Catholics learned of Mideo Cruz's juxtaposition of Jesuses and phalluses in an art gallery in the Cultural Center of the Philippines, they were furious. They wanted heads to roll — at least Mideo's — and heads to resign — whoever was in charge of displaying Mideo's blasphemy.
They wrote and sent hate mail, hate text, and even death threats, harassing anyone who had the slightest thing to do with Mideo's sacrilege. They created Facebook groups and pages to express their hate for Mideo and to get others to hate him just as much. They condemned artist and artwork, saying these were not artist and artwork, even lecturing experts on what it means to be both. They vandalized Mideo's "artwork" and called the violence justified. They called for a Senate investigation and even a national Day of Penance, showing how the entire country should be angry at and sorry for what Mideo did to their Lord and Savior Jesus Christ.
But Mideo never really hurt anyone — Jesus least of all — with his work. The degree of hurt brought about by offense is debatable, but one thing is clear: he did not hurt anyone physically.
Compare that to what was done to a girl who was hurt so badly she now has to hide behind a fake name. "Leah" filed charges of rape, acts of lasciviousness, and child abuse against Fr. Raul Cabonce of St. Anne Parish in Tubay, Agusan del Norte.
If we're to believe Leah, Fr. Cabonce forcefully molested her on several occasions, groping her private parts despite her protestations. Fr. Cabonce forced Leah to perform oral sex at least twice. He did this so violently that he made her gums bleed. The sexual harassment and assault eventually escalated to rape.
Talking about an experience like this would be difficult for anybody, but Fr. Cabonce made sure it would be torture for Leah. He threatened to curse Leah and her family if she told anyone. He also made sure Leah saw the guns in his room whenever he sexually assaulted her. Spiritual and physical blackmail.
For what he's allegedly done, all that Fr. Cabonce got was a transfer to a different diocese, far away from his former servant and sexual object, safe and comfy in a Bishop's palace.
How did conservative Catholics react to the news of Fr. Cabonce and Leah? What was the reaction of those who so furiously condemned Mideo and the CCP board? Did they send hate mail and death threats? Did they create Facebook groups and pages? Did they doubt Fr. Cabonce's priesthood or question the authority of those who decided he could be one? Did they ask anyone to resign? Did they commit violence and call it justified? Did they call for a Senate investigation, Day of Penance, or even a public apology?
Mideo Cruz put phallic symbols on a symbol of Jesus and a symbol of his cross. None of the symbols refused. None of the symbols got hurt. Fr. Cabonce forced his actual penis into a living 17-year-old girl's actual mouth. He eventually forced his actual penis into her actual vagina. In both instances, the girl refused. In both instances, the girl got hurt.
Which is more offensive? Which is more deserving of a Christian's disgust and damnation?
image by frisno