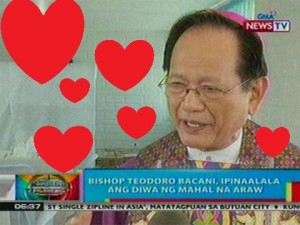 Teddy Dearest,
My heart has been a-flutter ever since I found your message to me this morning. How lovingly you have described me!
"These so-called atheists love with a great altruism, they really love their fellow man and even have a passion for justice and what is right and good. Those people really believe in God in their hearts, but they will not admit that."
Rest assured that I have kept your sweet words in my bosom all day today, and truly, how they have kept me warm! In fact, the adept way you have traced out my true being has inspired me to do the same for you, my love. I apologize if the following does not accurately mirror your sentiments but, after all, I do not think anyone can truly match up to your eloquent reasoning. But enough of this meandering! Here I go:
If I were wont to describe you, my darling, I would have quite a few options at hand. You could be a so-called advocate of acceptance, or a so-called man of dignity, or a so-called fount of charity, or a so-called lover of truth and life.
Because in truth, my beloved, you hate with a remarkable impunity. You really love to suppress your fellow man's rights and freedoms, and even have a passion for breeding ignorance, for cloaking prejudice and pride as what is right and good. You really, truly do believe in being a horrible human being, Teddy. But you will just not admit it.
There! I have said it, and I can only hope, my dearest, that you keep my sweet words in your own bosom as I do yours. Few have the courage to whisper such delights into your ears, but I have taken it upon myself to do so for, in your own kind words, I have the "passion for justice and what is right and good," and oh, how this opportunity beckoned!
Kiss-kiss,
Your So-Called Atheist