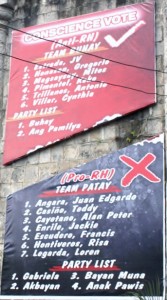 Two weeks ago, on March 19, the Supreme Court began hearing oral arguments on the Team Patay tarpaulins. Dean Ralph Sarmiento of La Salle Bacolod, counsel for Bacolod Bishop Vicente Navarra, defended the bishop by invoking his rights to religious freedom and free speech, especially as a private citizen who does not belong to a political party.
In response, Chief Justice Sereno said that election laws apply to all, even to a diocese. Sereno said: "In the Bible, it is said that you have to render unto Caesar's what is Caesar's. If there is government regulation on taxes, even if God owns the whole world, you have to pay taxes." She added that all materials "that tend to influence the electorate" should be regulated.
Justice Antonio Carpio shared Sereno's opinion. He said that the penalties for violating campaign restrictions also apply to private individuals.
Section 95
These statements are promising. Yet I'm disappointed that they didn't mention section 95 of the Omnibus Election Code of the Philippines. Also called Batas Pambansa Bilang 881, the Omnibus Election Code is the oldest law reference used by the Commission on Elections (Comelec); it's been enforced since 1985. Which is why I'm surprised that both the Comelec and the Supreme Court missed such a crucial part of it, at least as it relates to the Team Patay tarps.
The crucial section of the Omnibus Election Code can be found in "Article XI. Electoral Contributions and Expenditures." According to Section 95, "no contribution for purposes of partisan political activity shall be made directly or indirectly by… natural and juridical persons who have been granted… incentives, exemptions, allocations or similar privileges or concessions by the government."
According to section 94, contributions include, "anything of value… made for the purpose of influencing the results of the elections… [including] the use of facilities voluntarily donated by other persons."
Because the diocese of Bacolod is a religious organization, it receives exemptions on paying property taxes. Because they were granted this incentive by the government, they are forbidden from making contributions for political purposes. The Team Patay tarp, perhaps even the façade on which it is posted, clearly fall under the contributions defined in section 94.
Section 95 concludes by saying that it's "unlawful for any person to solicit or receive any contribution from any of the persons or entities enumerated herein." Which means that if the diocese is found guilty, the politicians listed under Team Buhay can be held liable as well.
Circumventing Comelec
During the hearing, Justice Teresita Leonardo de Castro agreed with Sarmiento that private individuals must not be punished for expressing their political views. She said that the government must show how private citizens could circumvent election regulations, particularly the limits on campaign spending.
In the case of the diocese of Bacolod, it's quite easy to think of a hypothetical example. Consider Politician X. He has already reached his limit for campaign spending. But he still has money to spend. He decides to make a big donation to his local Church. He tells the local Bishop that he hopes the donation will help the church, and that he prays to God that he can win in the next election.
The local Bishop uses some of the money to create billboards on several parish churches, expressing how pro-life Politician X is. Of course, no one can prove that the politician's donation went to paying for the billboards; churches, unlike other charitable organizations, aren't required to report where donations go to. Politician X has thus circumvented election regulations.
The Team Buhay tarpaulins currently include senatorial candidates Mitos Magsaysay, Cynthia Villar, Gringo Honasan, Koko Pimentel, Antonio Trillanes, and JV Estrada. We don't know how much these politicians have donated to the diocese of Bacolod – or to any church for that matter. We also don't know whether these donations played a part in their inclusion in Team Buhay, or where the money used for the tarps actually came from. But the possibility that some campaign restrictions are being circumvented is there. This is one of the potential violations that can be prevented if Comelec enforced section 95 – provided the Supreme Court lets them.
But first, both institutions have to forget the poster size restriction issue. Because as far as section 95 of the Omnibus Election Code is concerned, the diocese of Bacolod shouldn't be posting campaign materials in the first place. At least in this case, it's not the size that matters.