So you know those 7 Pajeros Gloria Arroyo bribed those Bishops with? Yesterday at a Senate hearing, the PCSO revealed they got more than Pajeros. The Bishops also got a Crosswind, a Montero, a Strada, a Grandia, and a partridge in a pear tree.
And it gets better still! The PCSO also uncovered a letter from one of the Pajero Bishops, Bishop Juan de Dios Pueblos, asking GMA for an SUV on his birthday. Here is an excerpt from his letter to GMA: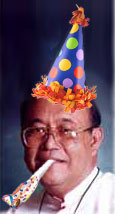 Pueblos, the birthday boy
I will be celebrating my 66th birthday on March 8, 2009. I know this will be a precious day and timely occasion to thank the Lord for giving me another year … After a prayerful discernment and due considerations to the existing crisis phenomenon today, I have decided not to hold a birthday party. Instead, I prefer to make use of my birthday as a day with and for myself, and with God.

…

I hope you will never fail to give a brand new car which would serve as your birthday gift to me. For your information, I have with me a 7-year-old car which is not anymore in good running condition. Therefore, this needs to be replaced very soon.
So kids, what have we learned from the Bishops today? You don't really need to pray to God to get a SUV. What you should do instead is buddy up to a corrupt president and then ask her nicely. It's like Bishop Pueblos knows that prayer doesn't really work!
Even better, the CBCP might have brought these troubles on themselves. Just last Monday, the CBCP told the Aquino government to stop whining about GMA and start filing cases after government officials disclosed the financial fallout on the PCSO from GMA's corruption.
Well, looks like they got what they asked for.