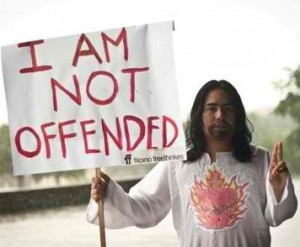 In celebration of Blasphemy Day 2011, the Filipino Freethinkers invite you to join
WHAT WOULD JESUS DO?!?
a Jesus H. Christ cosplay contest
Dress up as Jesus doing something batshit blasphemous, and be in the running for awesome prizes!
Rules:
1) Participants must be fans of the official Filipino Freethinkers FB page
2) Submissions can be either a photograph or a video
3) Persons/animals/objects other than Jesus may be in the entry
4) Entries featuring Jesus in public are very highly recommended
5) PLANKING IS NOT ALLOWED. EVER.
6) If the submitter wishes to remain anonymous, they should ensure that they are unidentifiable in the entry
7) Post your entries on the COMMENTS SECTION OF THIS EVENT PAGE.
8) Entries must be submitted no later than 11:59 PM, OCTOBER 23, 2011, FRIDAY
9) Criteria are as follows: 40% creativity, 30% offensiveness, 20% execution, 10% online votes
10) Online votes (i.e. number of "likes" per entry) will be collected from SEPTEMBER 30 to OCTOBER 28, 2011
11) Three finalists will be announced on October 29, 2011 via the FF FB page
12) Finalists will be invited to come in costume on October 30, 2011 at the FF HALLOWEEN PAR-TAY
13) Finalists' places (First, Second, Third) will be announced at the PAR-TAY
14) Prizes are as follows:
Third Place – 1 official FF t-shirt
Second Place – 1 official FF t-shirt + 1 Fully Bookd gift certificate worth Php500
First Place – 1 official FF t-shirt + 1 Fully Bookd gift certificate worth Php1000
Again, the crucial dates are as follows:
Deadline for Submissions: October 23
Voting Period: September 30 to October 28
Announcement of Top 3: October 29
Coronation Night: October 31
Visit our event page to post your entry!