On July 20, 2014, five students were possessed by evil spirits because they took selfies near a duhat tree. Allegedly, several men were attempting to hold down a kid and they seemed very, very strong. To appease the spirits who possessed the kids, all cellphones that were used to take the selfies were buried underground.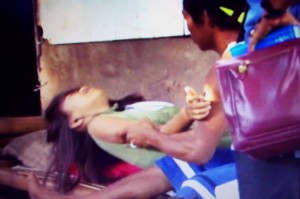 How did this nonsense make the headlines? It sounds like the premise of a low-budget horror movie. The incident in La Union and how it was described by the people who were involved does not prove that possession is real. The only thing it proves is that the Philippines and its many regions suffer from a harmful culture-bound syndrome.
In his paper, "Possession, Exorcism and Psychotherapy," Timothy C. Thomason mentions various examples of shared delusions:
"The DSM-IV TR (American Psychiatric Association, 2000) describes several disorders involving spirits and possession in the appendix on culture-bound syndromes. For example, the phenomenon of Zar possession is common in many North African and Middle Eastern countries, including Egypt, Ethiopia, Somalia, Sudan, and Iran. Susto or "soul loss" is an illness that is said to result from the soul leaving the body, and affects Latinos in the U. S. and people in Mexico, Central America, and South America. The DSM-IV TR notes that similar beliefs are found in many parts of the world. Many Native American tribes believe in spirit possession, and healers often suck illness-causing spirit objects out of patients; the Tlingit have a verbal exorcism ritual (Hultkrantz, 1992). The phenomenon of Windigo psychosis (possession by a cannibalistic demon) is well established among the Northern Algonquin Indians. The Ainu community in Japan believes in demonic possession and exorcism; in Nicaragua and Honduras there is a possession state called Grisi Siknis; and trance possession is found in Voodoo as practiced in Haiti (Prins, 1990)."
Demon possession is also a culture-bound syndrome. What this means is that demon possession happens only to people who believe in demon possession. The symptoms that "possessed" individuals exhibit are based on the mythos they subscribe to. A person suffering from Windigo Psychosis, for example, cannibalizes people, mostly because he believes that this is how a "demon" would function "if" he was possessed. People who become possessed subscribe to the fantastic narrative they were fed.
However, in the case of the "selfie" kids, it's not just them who are affected by this delusion. The delusion is shared by those who make claims of supernatural strength, and those who attempt to cast out demons. In other words, these individuals are subconsciously playing a game that allows them to flesh-out their religious fantasies.
As Thomason writes:
"Although exorcists claim that people who are possessed demonstrate superhuman strength and perform supernatural acts such as levitation, a literature review shows that no evidence for this exists other than the anecdotal statements of believers. Given plausible psychological explanations for possession behavior (such as self-deception and communal reinforcement), and the lack of evidence for the existence of demons, there appears to be no good reason to believe in the reality of demonic possession."
Now, if demonic possession was a harmless culture-bound syndrome, it wouldn't be much of an issue. Unfortunately, aside from the fact that this belief causes kids to act out in strange ways, demon possession and attempts at exorcism could be fatal as well.
According to the article, "Exorcism: Facts and Fiction About Demonic Possession," a number of people have died because dumb people have attempted to exorcise them.
Benjamin Radford writes:
"While most people enjoy a scary movie, belief in the literal reality of demons and of the efficacy of exorcism can have deadly consequences. In 2003, an autistic 8-year-old boy in Milwaukee,Wis., was killed during an exorcism by church members who blamed an invading demon for his disability; in 2005 a young nun in Romania died at the hands of a priest during an exorcism after being bound to a cross, gagged, and left for days without food or water in an effort to expel demons. And on Christmas Day2010 in London, England, a 14-year-old boy named Kristy Bamu was beaten and drowned to death by relatives trying to exorcise an evil spirit from the boy."
There are many reasons as to why a person would exhibit symptoms of demon possession, and none of these reasons involve a real demon or a real devil. Despite the fact that demon possession is not real, news of it should still be a major cause for concern.
We should be concerned about "news" of demon possession because it is evidence that many people in the Philippines can't tell fact from fiction, and this is primarily because a lot of people in the Philippines grew up with religion.
Here's a fact: The real cause of the selfie kids being possessed are not demons – it's religion.
An article from Politix reveals a study published in Cognitive Science whose findings suggest that one's exposure to religious ideas has a profound effect on a child's ability to distinguish between what is real and what isn't. Those who believed in fantastic religious situations are more likely to believe in other supernatural stories. In other words, if a child was raised Catholic, he's also more likely to believe in white ladies, kapres, tikbalangs, manananggals, and spirits who possess children for taking selfies.
On July 20, 2014, five students were NOT possessed by evil spirits, or by elementals who lived in a duhat tree, or by a "Shake, Rattle, n' Roll" inspired cellphone. What the news should have said is: "Five students were possessed by the cultural delusion that they have been indoctrinated in."
Image Source: