I watched a few films during the Cinemelaya festival. I really enjoyed most of them (First ko si Third, The Janitor, Dagitab, Lolo Me), but there was one movie in particular that stood out for me, and not in a good way: "Children's Show."
The movie was about two minors, brothers, who had to train MMA-style combat skills because they were part of an underground child-fighting ring. That premise, by itself, would have made for an engaging movie. However, because of the makers' inability to turn the premise into a story, they ended up just dumping one misfortune after another on top of the premise.
The makers decided that the siblings needed a mom who killed herself, an alcoholic dad, and some brain injury related hallucinations. The older of the siblings also had to have a girlfriend who had a miscarriage, and also had to stab his own father to death, at some point. Finally, the younger brother had to lose a leg due to some injury caused by the alcoholic father, and had to contemplate suicide, because, you know, that's what one-legged people do. The decision to add more misery to an already miserable duo turned an otherwise sympathetic story of child fighters into a couple of Mary Sues – characters created for an audience to pity, rather than empathize with.
What was the movie about? In my opinion, the movie was "supposed" to be about kids who literally fight to survive. But what it became about is two kids that the universe decided to torture with every tragedy at its disposal.
It was poverty porn.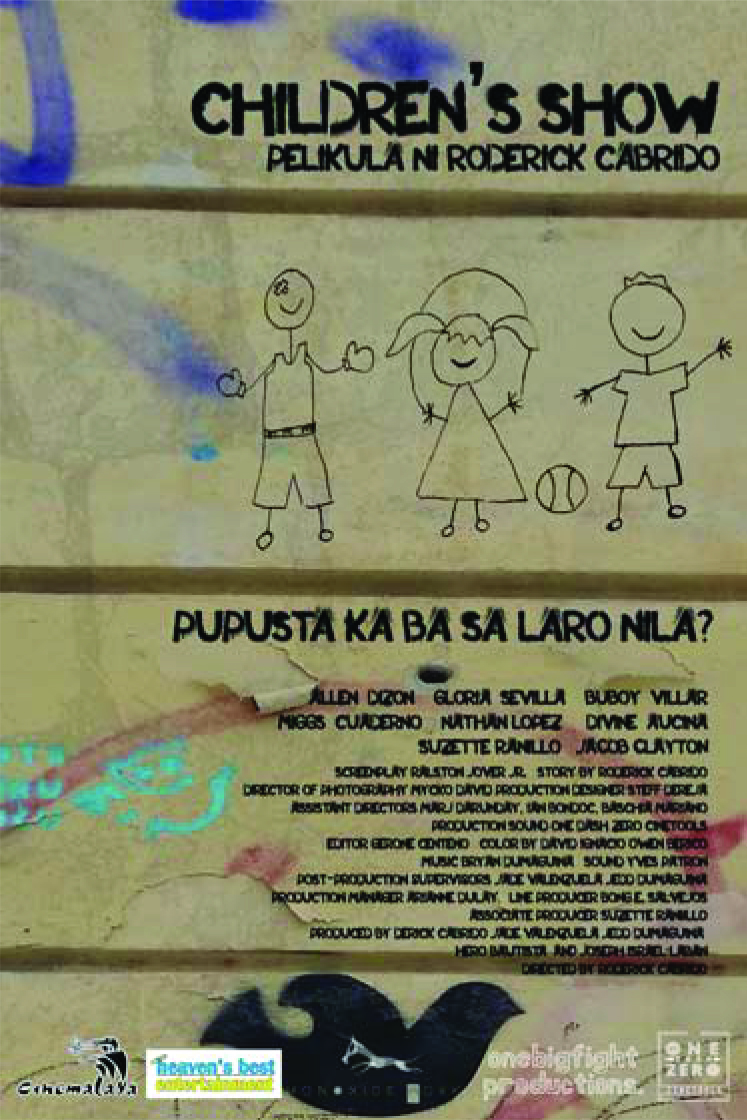 In "Children's Show," the characters seem to have been robbed of any chance for improvement. There was nothing any of the characters could have done, there was no decision the characters could have made, to significantly affect where the story was headed.
Similarly, Emily Roenigk, in the article "5 Reasons poverty porn empowers the wrong person," writes, "Poverty porn objectifies its subjects, defining them by their suffering and stripping them of the vital components of all human life – agency, autonomy and unlimited potential."
Although its entirely possible that there's a child fighter somewhere that has an alcoholic father, a suicidal mother, a one-legged younger brother, a girlfriend who had a miscarriage, head-injury-related hallucinations, and a dead former-alcoholic father that he killed, it's not an accurate representation of the "norm." In other words, it's an extreme example.
Ali Heller wrote about this tendency to feature extreme cases. In the article, "The Race to the Bottom and the Superlative Sufferer," Heller asks, "Why do we need the superlative of suffering?  Why must we highlight the extreme cases when the norm is bad enough?"
I don't want to completely disparage this movie. I'm sure it was made with good intentions. In fact, supporters of the movie might argue that the sensationalizing of suffering for dramatic effect was done in order to effectively call attention to the problem.
The problem is poverty porn is not an effective strategy to deal with an issue.
In the article, "Poverty porn: is sensationalism justified if it helps those in need?", Glendora Meikle narrates her personal experience while working with women suffering from fistula (http://www.fistulafoundation.org/what-is-fistula/), as an aid-worker and as a journalist.
At Queens Hospital in Malawi, Meikle was collecting testimonials and stories for her advocacy work. The first patients she spoke to mentioned how their husbands were very supportive of them. Unfortunately, she felt that a fistula patient that had a supportive husband deviates from the CNN stereotype:
"A woman with a fistula, who is perpetually leaking urine and sometimes feces, is often rejected by her husband and shunned by her village because of her foul smell and inability to bear more children."
The first few patients Meikle interviewed did not fit that particular profile. Meikle confesses that at that moment, she realized she was actively looking for women with worse cases, so she could come up with sadder stories. Meikle writes, "This is a difficult admission. That I deemed their situations not awful enough to merit attention means I had failed at a very human level: an inability to find a story in the quiet, unassuming lives of my fellow humans."
In other words, Meikle recognized that she was unable to empathize with the average patient, because she was concerned with finding the perfect sob story for her project. Poverty porn has a similar effect. When only extreme cases of suffering are highlighted, it somehow trivializes the struggle of the not-so-extreme cases, despite both cases being worthy of our attention.
In "Children's Show," even if the younger child fighter did not have an alcoholic father, or a mother who committed suicide, or an amputated limb, his struggle is still worthy of our attention, because children should not be punching and kicking for their survival. Unfortunately, the main point of the movie was overshadowed by all the other drama.
Meikle ends her article with an epiphany that, in my humble opinion, can help both makers of film and literature portray suffering properly:
"The truth is that we don't necessarily crave high drama in our stories. We just like them well told. It isn't an easy fix (partly because I don't think the best writers would work for non-profit wages) but if there is one thing that connects humans the world over, it is stories. We've just got to do a better job of telling them, so that the voices that emerge are not ours, but theirs."
Image Source:http://www.cinemalaya.org/sites/default/files/poster_0.jpg