Jennifer Laude was found dead in the bathroom. She was slumped on the toiled seat, peppered with black and blue bruises. She also had bruises on her neck. Her feet were also bruised. Reporters are not sure whether she died from the injuries she sustained from the beating that she took, or from being strangled. She was murdered.
Let's try that again.
Jefferey Laude was found dead in the bathroom. He was slumped on the toilet seat, peppered with black and blue bruises. He also had bruises on his neck. His feet were also bruised. Reporters are not sure whether he died from the injuries he sustained from the beating that he took, or from being strangled. He was murdered.
I'm not here to discuss whether Jeffrey/Jennifer Laude should be considered a he or a she. People can debate on his or her gender all they want, but what we can't debate about is that this person was the victim of a crime. This person was murdered.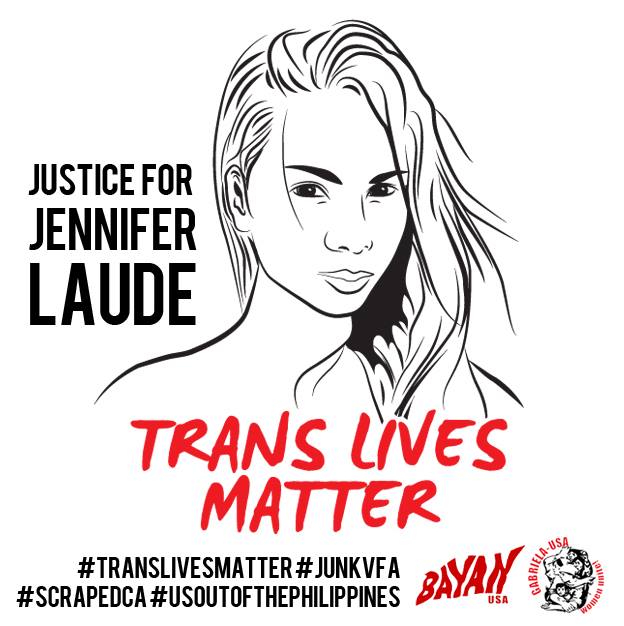 When a person is murdered, regardless of sex or gender, the ethical human response should be outrage or, at least, sorrow. If this tragedy happened to a straight woman or a straight man, that's exactly the kind of response we could expect from the majority.
However, I don't think some Filipinos see transgender individuals as people. That's the only reason I can imagine why there are over 200 comments posted on inquirer.net insulting, cursing, and mocking the murder victim.
Many of these comments express disgust and indignation, not because a person was brutally murdered, but because "a tranny tried to have sex with a straight man":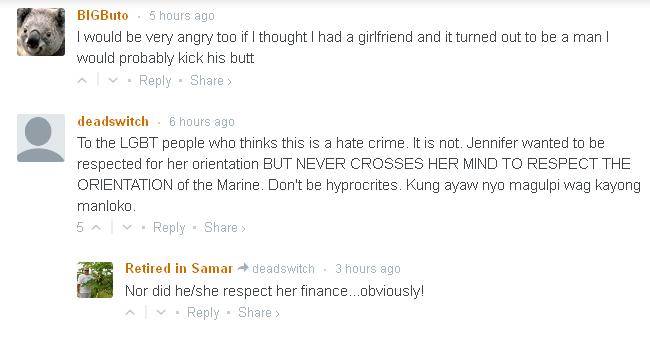 Many comments expressed satisfaction that karmic justice was served, not because a murderer was caught, but because "a sinner was punished":
Some comments even suggested that it was funny, and it was Jennifer's fault that she was murdered because she was "pretending to be a woman":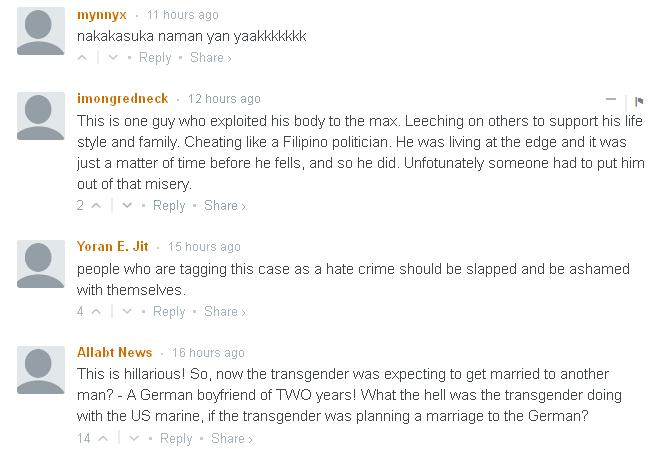 The insults and curses hurled at the victim has even inspired its own photo album in Facebook: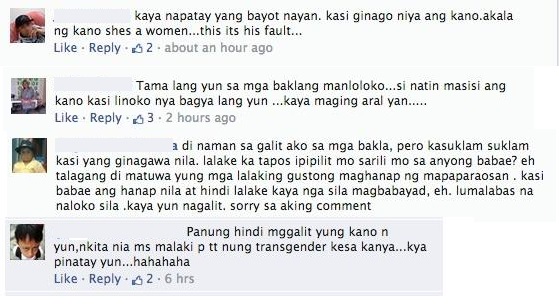 This attitude towards the transgender is not surprising though, especially in a country with a reputation for being religious and conservative. The Philippines, for one, is the last country without divorce and many of our religious countrymen are proud of being the last stronghold of idiocy.
Unfortunately for the LGBT community, research done by Wade Rowatt and colleagues from Baylor University in the States learned that religiousness and conservatism are the top two factors that account for a person's homophobia.
Here's a graph:
It should be no surprise that hate crimes against the LGBT community are tolerated in a country where majority of the people identify as Catholics, Christians, or Muslims; all of them, religions that hate homosexuality.
I can provide a litany of research proving how those who believe themselves to be the holiest of the holy, the most righteous of the righteous, the most faithful of the faithful, the most religious of the religious, the closest to God, are the most determined advocates of hate and bigotry. The most fervent believers of homophobic religious doctrine inevitably become the most homophobic people. When a person is indoctrinated and trained from childhood to hate homosexuality, it's rather difficult to unlearn it as an adult.
The suspect, obviously, is himself transphobic. He probably can't tell the difference between a homosexual and a trans-woman. He probably doesn't give a shit about those subtle differences either. This may sound a little racist, but studies do prove that Americans are less accepting of homosexuality than other westerners and religion may have something to do with it.
Many Filipinos have no empathy for the murder victim, Jennifer/Jefferey Laude, simply because of religion. They were raised to believe that any non-heterosexual person is a Sodomite; a disordered sinner that deserves divine punishment, in the same way the cities of Sodom and Gomorrah were punished – with the righteous vengeance of a brutal God.
The Philippines' religiousness and conservatism simply can't peacefully co-exist with homosexuality. In the minds of some Filipinos, it might as well be God beating up the victim.
It doesn't take a genius to understand that the Catholic hierarchy hates LGBT people. Just recently a bishop said that homosexuals should not be invited to the dinner table if there are children present, because impressionable children should not be exposed to something so "intrinsically disordered."
Some people would argue that homophobic doctrines, like the Bible, don't necessarily cause homophobia. They say things like, "But the Bible also has verses about love and tolerance…"
Are you serious? The Bible said that homosexuality is an abomination. The Bible also said that an adulteress should be stoned to death. The Bible also said that a rape victim should marry her rapist. Unfortunately, the context for these verses are not explained because the Bible doesn't have editor's footnotes. Many believers also suggest it's "open to interpretation." Well, anything can be open to interpretation. Even "Dora the Explorer" can be interpreted from a Marxist perspective.
However, there is a limit to the number of ways one can interpret, "Gay = Abomination." If you think that these verses, as they appear in the Bible, do not at all, inspire prejudice or bigotry, you need a mental health evaluation.
The Bible, along with other homophobic religious doctrines, are books filled with hate. These books don't belong in any society that aspires for gender equality. As long as there are people who adhere to Biblical authority, to verses that call homosexuals abominations, there will always be members of the LGBT community found dead in toilets and there will always be people celebrating the torture of the victim.