In my youth, I have dabbled a bit in the study of human attraction. I've always been fascinated with how complex human interactions progress from the first encounter, to the escalation of desire, to its consummation, and eventual decline.
How do you go from meeting a person you know nothing about, to deciding to share a bed, to committing to spend the rest of your life with this person?
"There has to be some magic there, somehow," I thought. "There has to be something, a mystical, mysterious force, an erotic demon spirit maybe, that compels people to gaze at each other lovingly, in anticipation of joy, and comfort, and love, and every wonderful promise that the world can offer."
Then, I heard about Tinder.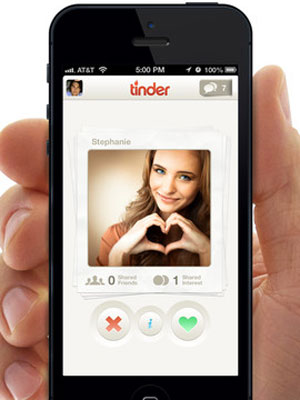 "Tinder is an online dating app that uses your Facebook profile to match you with people who are nearby and who have similar interests," a friend explains to me. It seems simple enough, right? You swipe left for people you're not attracted to, and swipe right for people you are attracted to.
One of its main features is that it only allows you to chat with people who already find you attractive. This may sound a little funny, but this simple dating app has inadvertently revealed a lot about people, in general.
Dating Sucks for Everyone
In an article from News.Mic, Erin Brodwin discusses how "New Research Reveals the One Simple Reason Tinder Is So Addictive." One simple reason for the massive success of Tinder is that it skips the agony of trying to figure out whether or not a person you are physically attracted to is also attracted to you.
Brodwin reports:
"In a recent study from the University of Kansas, heterosexual men and women could tell pretty easily — 80% of the time — when someone wasn't interested. But when someone was flirting, the other person rarely — 36% of the time for men and just 18% of the time for women — had a clue."
In other words, we know, almost to a certainty when someone doesn't like us. However, It appears that the "flirting" stage of the romantic pursuit that's often glamorized in many Hollywood movies as something supposedly exciting and fun, is mostly confusing and dreadful in real life. We're just not as confident and self-assured as the characters we see on film.
To make matters worse, just in case we do sum up the courage to talk to a complete stranger whose intentions, motivations, and desires in life is unknown to us, it's still possible that they won't like us, or that we'll have absolutely nothing in common with them.
Brodwin adds that, "Dating is impossible. It's the worst game adults have invented for themselves since hunting and gathering."
I agree. I wonder how many hours the human race could have collectively saved if none of them wasted any time trying to win over someone who wasn't attracted to them.
Why Tinder Works
Tinder works because it removes a lot of these unknown variables out of the equation. It uses an algorithm that arranges your selection pool according to similar interests and proximity. Furthermore, once you have a match, you no longer have to agonize over whether or not this person finds you attractive. A match is a match. At the very least, this person is "okay" with your face.
In the article, "The Science Behind 3 Popular Dating Apps," Dr. Gary Lewandowski discusses the science behind Tinder. He mentions three scientific facts that make Tinder a very efficient application for seeking potential partners.
1) Tinder prioritizes matches with people you already have similar interests with, and "similarity plays a large role in attraction."
2) Tinder makes suggested matches based on physical proximity. Lewadowski writes that, "the available research suggests that we are more attracted to those who live nearby."
3) Tinder matches you with people who already like you. This feature, by itself, saves millions and millions of neurotic, insecure, individuals from obsessing about whether someone likes them on the most basic level, physically. But apart from that, Lewadowski adds that, "Matches on Tinder also benefit from the principle of reciprocity (i.e., liking those who like you), which research suggests also increases attraction."
Tinder is Brutal
There is, however, one thing about Tinder that not a lot of people talk about. It's fucking brutal. You are given the power to evaluate and make judgments on a person's date-worthiness based on their appearance. What if you don't find a match after swiping right through a hundred profiles? If you're familiar with the logarithm that the program uses (more often than not, it puts those who "liked" you at front-end of your selection pool), the whole thing becomes a little depressing.
Human beings have always had an instinct to make judgments about people based on a first impression. In the real world, it's quite common for people to observe their environment and the people near them. Regardless of how often it happens though, people aren't really comfortable with the snap-judgments other people make about them.
Tinder's brutality lies in its unremitting honesty. It allows people to comfortably revert to the primal instinct of selecting mates based on how they look like. After some time on Tinder, an individual would inevitably realize that he or she is only really interested in a person's hobbies, or interests, or witty remarks about themselves, AFTER said person has been deemed as cute, or pretty, or handsome enough to warrant additional interest. In my opinion, the practice of casually rejecting human beings develops a habit of dismissal: "This one's too fat, too thin, too old, too dark, too poor, too slutty, too religious, too vain, has too many selfies, etc, ad infinitum." This illusion of abundance makes it quite easy to forget that none of us are entitled to perfection.
Tinder also reveals what we've all known all along, but never had the audacity to say. It's not a level playing field. At the end of the day, we "like" good looking people, and select mates based on what physical attributes we find attractive. There's no such thing as "game" or "seduction" on Tinder. All that jazz happens after you're evaluated as physically worthy to be given the opportunity to seduce or woo. In the business of desire, your face is your resume, and you won't get an interview if you don't pass the initial screening process.
As Rachel Esco explains in her article, "LOVE & TECH: Is Tinder the death of romance in the technological age?":
"We are currently experiencing a battle between efficiency and romance. Alas, we have the rise of Tinder, the savior to quench society' thirst for unabashedly shallow, yet quick routes toward courtship. It epitomizes the death of organic dating."
Whether or not "the death of organic dating" is something that we should lament is a matter of perspective. Furthermore, we cant completely claim that Tinder is devoid of romance. I mean, marriages have happened due to Tinder.
But, in my opinion, it's becoming increasingly obvious that Tinder has paved the way for a very primal version of human mate selection – simple, brutal, and extremely efficient. For some, finding "The One" could be as easy as swiping right instead of left.