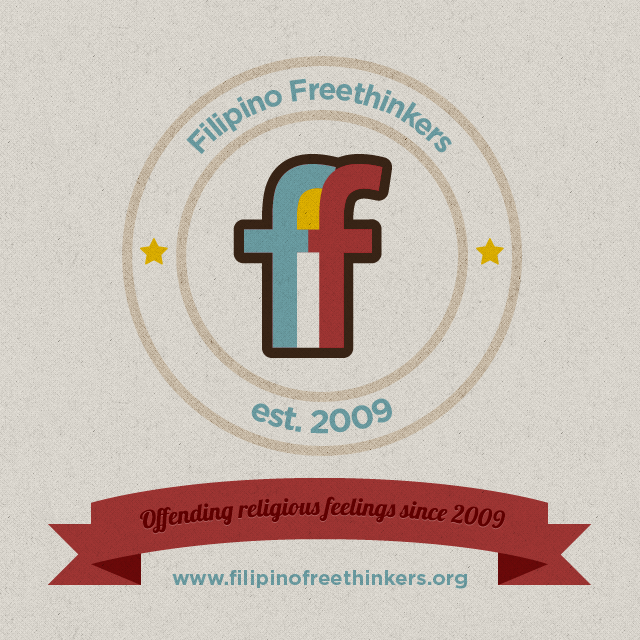 Filipino Freethinkers turns four today, and as usual, I'll mention some milestones (at least from my limited perspective — and memory):
My Bottomline interview. I was told by a producer that it's one of their most successful episodes ever. I didn't get a single negative message about it — and I got a lot of messages.
The first RSS Forum. Not only did we honor some of our heroes, we gave Sen. Sotto his first Bigot of the Year award, and it made the news. On GMA.
Pro-life party list opposition. We registered as a non-stock, non-profit organization so that we could take legal action as Filipino Freethinkers, inc. We heard some judges take that stuff seriously.
Philippine Internet Freedom Alliance. Together with allies in the fight to repeal the Cybercrime Law, we formed PIFA and made noise — and silence — both online and on the ground.
Sottocopy. Our site featured proof of Sotto's plagiarism for the first time in social and mainstream media. We also joined a group that filed a formal complaint against Sotto with the Senate Ethics Committee.
Marching as Memes. Our 4th Pride March was our most successful, not only in terms of the size of our contingent, but the number of people who took photos with our props.
RH Law. It's been a pleasure to work with some of the most sincere and passionate advocates of women's and human rights, and it's an honor to share this victory with them.
Mainstream relevance. For the first time, we were featured in the news at least once a month for each month of the year. I heard it's now mainstream to hate mainstream, so hipsters need not worry.
Social media savvy. Our website exceeded 1 million page views, and our FB page passed 20,000 fans. We consistently rank high on Top Blogs, and are often #1. (Currently #1 above two CBCP sites.)
Warm bodies. With the introduction of RSS talks and the raunchy topic of the week, meetups have become more educational and entertaining than ever. Plus they're still regular and well-attended.
2012 gave us a lot of reasons to celebrate, but I'm ambivalent about celebrating. I still feel bad about what happened a few days ago: Carlos Celdran, one of our closest allies, was found guilty of offending religious feelings. Yet it opens up the possibility of repealing Article 133, removing that archaic blasphemy law and clearing Carlos' name. That's one milestone I want to report next year.
It will surely be a challenge. The Catholic Church hierarchy and its conservative cohorts will surely oppose us at every turn. But if 2012 has taught me anything, it's that Carlos is no longer alone. We're no longer alone. More and more Filipinos are realizing the importance of reason, science, and secularism, no longer content to let bigotry and traditionalism dominate public discourse.
This growing appreciation of secular ideals helped us reach milestones and fight battles in 2012 that were unimaginable when we started in 2009, and it's why I'm sure that 2013 will be even more awesome.
***
To celebrate our 4th year of offending religious feelings, we're going back to where it all started:
Friday, Feb 1, 2013. EDSA Shangri-la mall.
6:00-8:30 Meetup in Shangri-la Starbucks near cinemas (where we had our first meetup in Feb 2009)
8:30-9:30 Dinner somewhere in Shangri-la (attend the meetup to find out where!)
9:30-11:10 Movie: Warm Bodies
There will still be a meetup this Sunday, Feb. 3. And while you're at it, mark Feb. 16 on your calendar — we're planning a bigger than usual event for Darwin Day.