The verdict is out and the courts have sentenced Carlos Celdran to a maximum of 1 year, one month, and 11 days in prison for having "offended religious feelings" under Article 133 of the Revised Penal Code. There is, however, some misunderstanding among those following the case regarding what the crime truly was. As will be clear, Article 133 privileges those with faith above those who have none, giving them special rights. And with these special rights, the faithful enjoy protection with no equal in secular society.
Apologists for Celdran's imprisonment invariably open their arguments by saying that they are not opponents of free speech. Should Celdran have chosen a different venue, say Mendiola, he would not have been arrested. True enough, I regularly criticize the powerful Roman Catholic Church and have suffered little for it. In this country, I can make all the jokes about silly Catholic doctrines from the comfort of my home without fear of imprisonment. Article 133 specifically stipulates that the offense to religious feelings must be done inside a place of worship or during a religious ceremony.
What Celdran did was not polite, to say the least. But it did send a message, and nobody was hurt, molested, or tortured. There was no fear of clear and present danger with his placard. And nobody shielded him from the police. People like me who sit behind laptops cannot even dream of getting the reach of Celdran's protest. And because Celdran was very effective, he was seen as a threat. The powers that be in the Church can take the tiny bloggers ranting online. After all, the old men running the Church don't even use the Internet. They allow the nation this small freedom to appease those who think free speech is about posting half-baked Facebook commentaries. But, no. People didn't die for the right to idle chatter. Free speech is about saying things that piss people off. Free speech is about saying things where people will hear what you say and be pissed off.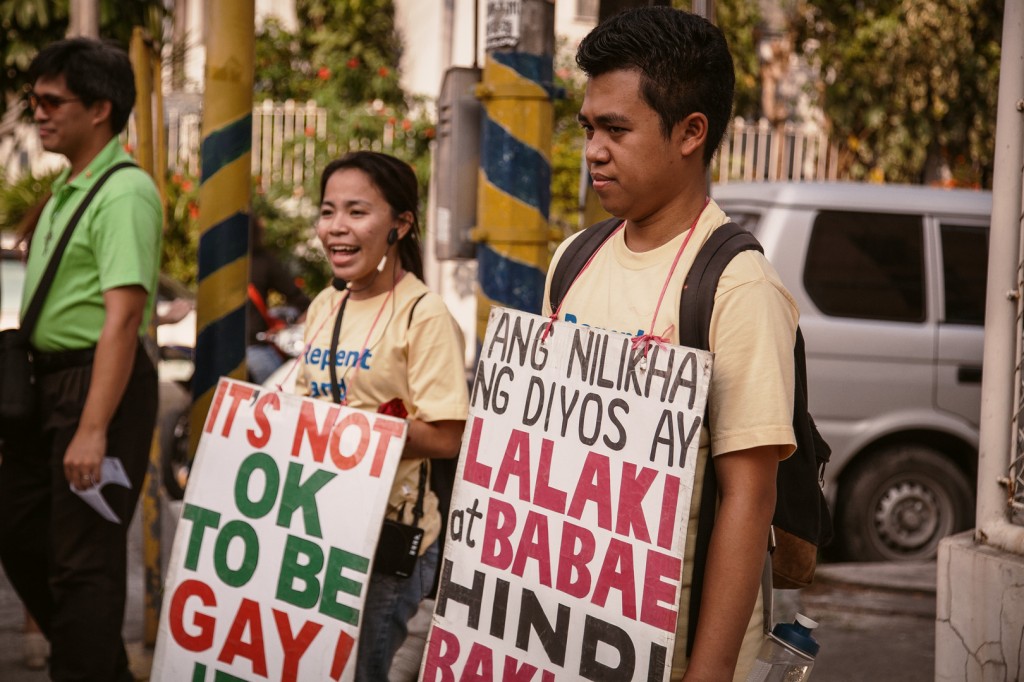 Filipino Freethinkers is a regular attendee of the Philippine LGBT Pride March that happens every December. While not an LGBT organization, FF supports the recognition of LGBTs as equal human beings. During this march, there are also regular Christian fundamentalist protesters. They shout at marchers and hold signs around the parade, saying that homosexuality is wrong. This has caused great offense to attendees, who come out to the parade to celebrate their identity, only to be shouted down in the one place they publicly proclaim their pride.
Because the parade grounds are not religious grounds, because the march is not a religious ceremony, the LGBT Pride marchers must take such offenses in stride, often making their own jokes to make light of the clearly stressful situation. LGBTs experience oppression and violence every day and choose one day of the year and one place to celebrate. They are a true minority deserving of protection. However, because they do not have politicians in their pocket and because they are decent human beings, they do not have special rights under the law to protect them from religious free speech.
It is quite ironic that those who see LGBT equality as affording "special rights" are exactly the people who have special rights under the law. While LGBTs only ask for their recognition as equal citizens, anti-Celdran apologists enjoy a unique class of speech that the non-religious cannot have. Had Celdran done the same kind of picketing the fundamentalists did but during a religious parade, he would still have been charged under Article 133. LGBTs cannot have Christian fundamentalist protesters arrested regardless of the degree of anguish they feel, which is certainly more than the attendees of the Manila Cathedral ecumenical event where Celdran protested. Witnesses even said at the trial that they had no idea what "DAMASO" meant until after the fact and that they thought Celdran was part of the activity. If they found Celdran disruptive, all they had to do was escort him out of the building. At most, they could have filed a case against him for trespassing. After all, the tax-free Manila Cathedral is private property of the Archdiocese of Manila. But, no, the CBCP flexed their muscles and showed the Philippines who was in charge. You can tweet all your criticisms, but don't you dare make us hear them. Or else.
People have the right to peaceably assemble. People have the right to freedom of and from religion. What we ought not have a right to is unequal speech. Article 133 says that some kinds of speech are more equal than others. Article 133 is clearly archaic. It is a law that belongs to the time when the Catholic Church could do more than send people to prison. It is a law that has no place in a modern society that encourages the free exchange of ideas.
Only people who believe that their faith cannot stand on its own merit need Article 133.