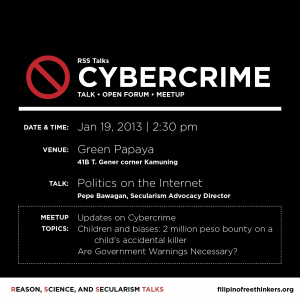 Location: Green Papaya (41B Teodoro Gener cor Kamuning, Quezon City)
Google map: http://goo.gl/maps/Umq1O
Date: Saturday, January 19, 2013
Time: 2:30pm – 5:30pm
Talk by Pepe Bawagan
– Politics and the Internet
Discussion topics
– Cybercrime Law Updates
– Children and biases: 2 million peso bounty on a child's accidental killer [http://www.abs-cbnnews.com/nation/01/13/13/govt-offers-p2-m-bounty-stephanie-nicoles-killer]
– Are Government Warnings Necessary?
RSVP here: https://www.facebook.com/events/398354230249954
After the meetup we usually go for dinner and drinks somewhere nearby. If you're not a meetup regular and can't make it for the meetup but would like to go for the post meetup, please indicate on a post in the wall or comment so we can contact you.
Got questions about the meetup? Contact us at 0927 323 3532
* Newbies are welcome.
* Look for the FF sign (or the group of smart, sexy people).
* There is no required age, religion, philosophy, or IQ level.
* Discussions are informal yet intelligent (most of the time).
* You don't have to talk; you can just sit in and listen.