Dear Pro-RH Catholics,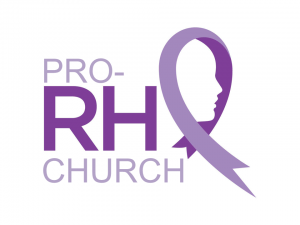 You've been asking the Vatican for pro-RH reforms for over four decades. During that time, your leader, the Pope, has made it absolutely clear that to be Catholic means to be anti-RH. You have been called "fake Catholics," "cafeteria Catholics," and even "oxymorons." You have been told that if you cannot obey, you should just leave. Your Pope has answered requests for reforms by saying he prefers searching agnostics over fake believers.
You have no control over what your church officially does and decides. Yet you have fought long and hard to cling to your Catholic identity. I respect that, but I respect even more the fact that you recognize the moral value of RH despite the denigration of your detractors. So I'm suggesting that you consider indulging them.
What if you left the Roman Catholic Church completely and formed your own one? It would be identical to your old church, except for one critical difference: it would be pro-RH officially. Of course, your new church will no longer be recognized by the Vatican.
But what would losing Vatican recognition do anyway? If you cared about the Vatican's official position, you wouldn't be pro-RH Catholics. This implies that you don't think the Vatican is the highest authority.
You probably think that Jesus Christ is, and that He is pro-RH. So don't you owe it to Jesus to create a church that truly represents Him? If you create a church with pro-RH bishops and priests — and you've claimed that there are many of them — don't you think that Jesus would let them represent Him even without the Pope's permission?
Surely you don't think Jesus gave the Vatican unconditional power. If the Catholic Church suddenly taught that child abuse was a sacrament, do you think Jesus would still be OK with them representing Him? Similarly, do you think Jesus would have a problem with good bishops just because they removed the "Roman" in "Roman Catholic"?
So you should have no doubt that Jesus will bless this Pro-RH Church that you are forming. Being a pro-RH God, it's even reasonable to think He'd bless it even more. Your new church may not be as extravagant as your old church, lacking the expensive decorations and extravagant costumes (and you won't have billions in reserve for that occasional child abuse settlement). But I don't think a carpenter's son who was born in a manger would care much for appearances.
You may find the different surroundings striking at first, but I'm sure you'll get used to it soon. Because you can keep almost everything in your new church the same as your old one. A blind person attending a Pro-RH mass wouldn't be able to tell the difference. At least not until the priest sermons about the importance of informed choice, freedom of conscience, and of course, contraception.
Imagine not having the urge to walk out because you vehemently disagree with your priest. Imagine not feeling tricked whenever you're asked to kneel, bow your head, and then pray against the RH Bill. Imagine not thinking twice about donating money that could be used to fund anti-RH campaigns. Imagine not feeling cognitive dissonance about supporting an anti-RH institution that claims to represent the pro-RH God you have faith in.
Forming a new church would surely take some courage, not to mention resources. But it wouldn't take a lot individually if you did it together. If most of you joined this new church, yours would still be the largest church in the Philippines. Since most Catholics are pro-RH, you'll be bigger than the Roman Catholic church.
The Philippines would now be predominantly Pro-RH Catholic (which it already is anyway). Your new bishops — who will actually represent your RH stance — will have more clout than your old bishops, who can no longer claim to represent 80% of the population.
Knowing the danger of bullying bishops, your new leaders probably won't use their religious authority to meddle in politics. And they wouldn't even have to. Because from now on, your representatives will no longer fear pressure from the bishops.
Anti-RH legislators who were just bullied by bishops could change their position. Closeted pro-RH legislators could now openly support the RH Bill. The passage of the RH Bill will finally be a reality, enshrining RH as a fundamental human right. This alone should make you consider forming a pro-RH church. Pro-RH Jesus would be pleased.
Sincerely,
Red
PS
It wouldn't hurt to disassociate from an organization that censures progressive theologians and nuns, discriminates against women, LGBTs, and non-Catholics, protects pedophile priests more than potential child abuse victims, and thinks that you deserve to burn in Hell.