Although I am a New Zealander with Maori ancestry (kayumanggi), my Scots-Irish genes predominate and I am thus cursed with white skin. I say cursed, because in New Zealand being white is not an advantage. White means sickly, unattractive, and a possibly genetically problematic mate.
Thus, whenever the sun shyly and coquettishly re-emerged after winter, we university students would find a good place to lie naked under its heathen embrace and encourage its  life affirming touch to rekindle our chances of getting laid with our new healthy tan. Brown was beautiful. White was…well, the pallor of death.
It was not till I arrived in the Philippines and started work in the English Department at UP Diliman that I discovered how misguided I had been.
The sun was the enemy to be avoided at all costs. Whenever it came out, up went protective umbrellas. People routinely insulted one another by observing that the other had gotten darker ("Umitim ka.").
What had been the ultimate compliment in my previous life was now the ultimate curse.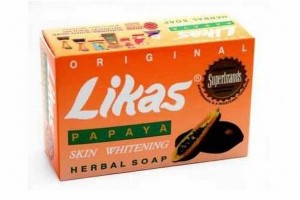 Everywhere I looked, there were skin whitening products for sale. The harmony of ebony and ivory was now the promise of ebony to ivory. Before and after billboard posters showed what appeared to me to be a gorgeous morena girl frowning on the left who miraculously transformed into a grinning mestiza version on the right.
I felt perverse. I preferred the left.
Yet, remorselessly, every second ad showed miserable brown girls touched by the fairy god mother of whitening products to become happy, fulfilled white versions. Even their noses grew and their hair straightened, it seemed.
This white thing was no joke. It was serious business. A simple equation was evident: brown equals misery = white equals happiness.
I began to feel better about myself. Hell, I was white. My nose was long. Those very things that had caused me great angst were now an asset. Shit. Why didn't I come here earlier!
Then I saw Jesus on the side of a jeepney. I saw Jesus on billboards. I even saw little baby Jesus in a million cradles at Christmas. And he was white too!
It was getting even better! Even God was white! Now you couldn't get a better endorsement than that for a complexion! Staggering! A man born and bred in the Middle East was somehow a Brad Pitt lookalike!
I grant you it makes no sense. He should have looked more like Osama Bin Laden, but maybe he was an albino or maybe Mary had this Filipino obsession with umbrellas. In any event, here I was in a country where white was automatically beautiful. Why fight it?
I therefore, secretly of course, cast off my foolish liberal sentimentality and embraced my new status. I silently thanked the Spanish invaders and the Yanks for managing to so brilliantly infect the minds of 100 million people.
Thank you, Magellan. Thank you, President McKinley.
Although I continue to publicly rail against the obvious insanity and obscenity of all this, deep down, in some Neanderthalian recess of my brain, I thank the invaders and I never forget to give a begrudging nod to the white saints that front Quiapo church as I pass it.
It's almost enough to turn this atheistic Buddhist, Catholic.
Almost.