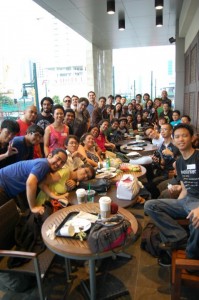 Location: Starbucks at Ansons across The Podium, Ortigas (Google map)
Date: Sunday, September 11, 2011
Time: 2:30pm – 5:30pm
This meetup falls on an momentous day. The terrorist attacks of September 11 changed many peoples relationship with religion. For the "new atheists", it spurned a movement to be more vocal about criticizing religion in all it's forms. Others yet turned to more religion. We'll come together to discuss this topic and others this Sunday.
Discussion Topics:
– 9/11 10th Anniversary
– The Value of Debate (Senator Sotto's response to Leloy Claudio's challenge)
– Reconciling Catholicism with RH Bill support
– "Only" 4 or 5 women dying. Better things to do than RH?
After the meetup we go for dinner and beer drinking at Congo Grill (see map). If you're not a meetup regular and can't make it for the meetup but would like to go for the post meetup, please indicate on a post in the wall or comment so we can contact you.
Got questions about the meetup? Contact us at 0927 323 3532
* Newbies are welcome.
* Look for the FF sign (or the group of smart, sexy people).
* There is no required age, religion, philosophy, or IQ level.
* Discussions are informal yet intelligent (most of the time).
* You don't have to talk; you can just sit in and listen.
* You don't have to buy anything from Starbucks.