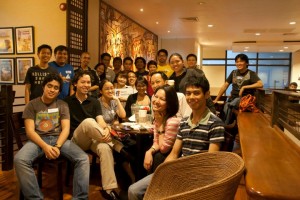 Location: Starbucks at Ansons across The Podium, Ortigas (Google map)
Date: Saturday, August 13, 2011
Time: 2:30pm – 5:30pm
Shhh… keep quiet everyone! Don't say anything, you might offend the feelings of somebody! Everybody knows, if you offend the feelings of Imelda Marcos you have to shut up on pain of… never mind.
It's been another busy week here in the Philippines. The latest Social Weather Station survey on the Reproductive Health bill is showing that most Filipinos believe family planning to be a personal choice. Meanwhile, Pro-Life Philippines is getting all Spanish Inquisition on the freedom of expression. Happily, in the midst of this the Filipino Freethinkers have been nominated for the Globe [email protected] awards (go vote now!) and also, this week is a meetup week!
Let's talk!
Discussion Topics
– Anonymity
– Free Speech v. Blasphemy Laws
– CCP Controversy
After the meetup we go for dinner and beer drinking at Congo Grill at El Pueblo (see map). If you're not a meetup regular and can't make it for the meetup but would like to go for the post meetup, please indicate on a post in the wall or comment so we can contact you.
Got questions about the meetup? Contact us at 0927 323 3532
* Newbies are welcome.
* Look for the FF sign (or the group of smart, sexy people).
* There is no required age, religion, philosophy, or IQ level.
* Discussions are informal yet intelligent (most of the time).
* You don't have to talk; you can just sit in and listen.
* You don't have to buy anything from Starbucks.