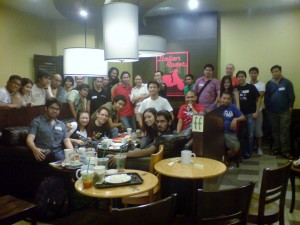 Location: Fort Bonifacio Starbucks, 32nd Street (in front of MC Home Depot) (Google map)
Date: Saturday, July 30, 2011
Time: 3:30pm – 6:30pm
With the Mind Museum's Cafe Scientifique being on the same weekend as our meetup, we'll be organizing this meetup around Cafe Scientifique. This Cafe Scientifique looks to be a really interesting session on the science of moods. Because of the overlap with our regular schedule, this meetup starts later than usual, at 3:30 PM.
This meetup also coincides with the meetup of our Davao chapter. If you're at Davao this weekend, do consider going to the meetup and saying hi to one our regular writers, Jong A. (innerminds).
Discussion Topics
– Cafe Scientifique
– Norwegian killings
– Ugly rights II: Fat rights, with a vengeance
– SONA 2011 Reactions
– The return of Freethinker Open Mic
After the meetup we go for dinner and/or beer drinking at a nearby restaurant. If you're not a meetup regular and can't make it for the meetup but would like to go for the post meetup, please indicate on a post in the wall or comment so we can contact you.
Got questions about the meetup? Contact us at 0927 323 3532
* Newbies are welcome.
* Look for the FF sign (or the group of smart, sexy people).
* There is no required age, religion, philosophy, or IQ level.
* Discussions are informal yet intelligent (most of the time).
* You don't have to talk; you can just sit in and listen.
* You don't have to buy anything from Starbucks.