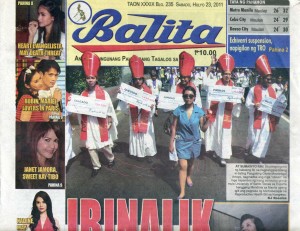 (July 22, 2010) Manila – Filipino Freethinkers marched to Mendiola and Malacañang with other RH advocates from the Reproductive Health Advocacy Network (RHAN) and other pro-RH organizations.
One of their members dressed as ex-President Gloria Macapagal Arroyo (GMA), pulling behind her seven huge PCSO checks. Each check was carried by a member dressed in a bishop costume. The recipients and amounts listed in the checks are based on the details of the recent PCSO scandal, wherein 7 Catholic bishops were given PCSO donations approved by GMA.
"We want to warn PNoy not to commit the same mistakes of the past president," said Kenneth Keng, RH advocacy director of Filipino Freethinkers. "GMA bought the bishops' silence during the Hello Garci scandal by blocking the passage of the RH Bill during her term. The recently exposed PCSO donations to several bishops are only the tip of the iceberg. There may be more bribes that have yet to
be uncovered."
Filipino Freethinkers also echoed the call for PNoy to clearly support RH during his upcoming State of the Nation Address (SONA). Keng said: "It is our hope that showing the President the broad based majority support that the most recent SWS surveys confirmed (70% of filipinos nationwide in favor of the RH Bill) and the dire consequences of delay in terms of innocent lives lost (100,000 maternal and infant deaths and 4,000,000 abortions since a vocal minority of religious opposition began opposing the bill 10 years ago) can enjoin him ahead of his upcoming State of the Nation address to take action in making the priority passage of the RH Bill this year a reality.
"We want to remind PNoy to fulfil his promise to provide RH for all," said Keng. "He has unequivocally given his support to the RH Bill in public fora such as the recent UP commencement address. We're here to celebrate this new promise while gently reminding him of the need to help push the Bill past all of the shameless, underhanded and undemocratic stalling tactics of groups led by the CBCP in both houses of Congress"
# # #
If you'd like more information about this, or to schedule an interview with Kenneth Keng, please contact us or send an email to [email protected].