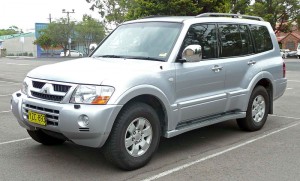 7 Catholic bishops each received a Pajero from ex-President Gloria Macapagal Arroyo (GMA). This allegation was made by Margarita Juico, chair of the Philippine Charity Sweepstakes Office (PCSO).
Juico told the Inquirer that GMA "moved to divide the bishops by getting some of them on her side to ensure that the CBCP (Catholic Bishops' Conference of the Philippines) would not have a unified stand on her." According to the Inquirer report, "Juico said that she was told by some of the agency's old-timers that these 'donations' to the Church leaders had become standard practice since Arroyo faced a real threat of removal from office with the 'Hello Garci' election cheating scandal six years ago.
The CBCP replied by saying it didn't accept bribes "as a group." But it did not deny the allegations that 7 bishops were bribed with Pajeros (emphasis mine):
Msgr. Pedro Quitorio, media director of the CBCP, said the Church hierarchy as a group did not avail itself of the supposed extravagant gifts from PCSO during Arroyo's term.
"The CBCP as a body did not have any part in that…" Quitorio said.
How easy would it have been for Msgr. Quitorio to say that none of the CBCP bishops received a Pajero? To me this is almost as good as admitting that there were indeed some bishops who were bribed by GMA.
And according to Juico, these Pajeros were given a few months before GMA stepped down. What other expensive gifts were given as part of GMA's "standard practice" of "donating" to the CBCP?
It is not enough for Quitorio and the CBCP to disassociate themselves with the individual bishops who accepted bribes in spite of the official position of their organization. If Juico's allegations are true, it was the dissent of these bribed bishops that ensured the CBCP would not go against GMA's administration. This silence amidst obvious corruption was an organizational action, and the CBCP as a whole is guilty for it.
I hope the PCSO continues its investigation into this scandal. Juico's allegations are serious, and needs to be backed by evidence. At the same time, the CBCP should do its own investigation and expose corruption within its own ranks. Otherwise, with all their crusades against gambling and corruption and immorality, they will be nothing more than hypocrites.