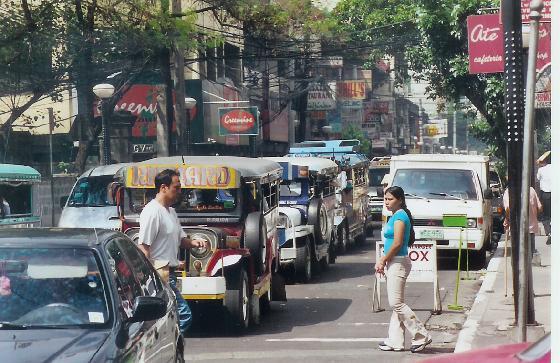 Crossing a busy street and testing one's agility against vehicles has inherent risks. To minimize these risks, we create structures and social rules such as traffic lights, pedestrian lanes, speed bumps and so on. We also minimize the frequency of exposure to risks. Using overpass walkways, avoiding unnecessary trips and creating better planned neighborhoods are some of the ways we reduce the number of times people and vehicles cross paths.
The reproductive health (RH) bill's approach to reducing maternal deaths follows the same dual strategy: minimize risks and minimize exposure to risks.
A woman's lifetime risk of maternal death is a product of two factors: the risk of death from each pregnancy and birth, and the number of times she gets pregnant. The most successful countries in the world have managed to bring down both, and some of our ASEAN neighbors are on the way to making maternal death a rare possibility in a woman's lifetime (see chart below).

Source: World Health Organization, UNICEF, UNFPA and The World Bank,
"Trends in maternal mortality: 1990 to 2008", Annex 1 & Appendix 14, 2010.
To reduce the risk of death from each pregnancy, the RH bill mandates:
Opponents of RH have expressed mixed reactions to this aspect of the bill. Some have accepted it as beneficial and have focused instead on their key issues of contraception, abortion and sex education. Others have branded it as unnecessary or a mere sweetener because the government has been doing maternal health programs without a law; or maternal death is not among the top-10 causes of deaths; or both. To check these claims, let us look at a key indicator of safety during pregnancy and birth: skilled birth attendance.
If women lack access to SBAs, they rely on the hilot (traditional birth attendants) to manage their childbirth and the immediate period after delivery. Unfortunately, around three quarters of all maternal deaths occur during these critical times. A hilot does not have the skills or resources to save women from the usual complications like severe bleeding, convulsions, sepsis and obstructed labor. How a hilot can totally mess up with diagnosing a complication and acting promptly to forestall death can be seen in the documentary Olivia's Story. Only 37 years old, she died on May 2, 2009 in a poor community in Malabon (yes, hilots ply their trade even in a city in the country's metropolis) after delivering her tenth child at home.
In 1999, a special session of the UN General Assembly agreed to work towards raising the use of SBAs to 80% by 2005, 85% by 2010 and 90% by 2015. What has the Philippines achieved? In 2008, actual use of SBAs by all women was only 62%, and the poorest women had use rates of only 26% (see chart below).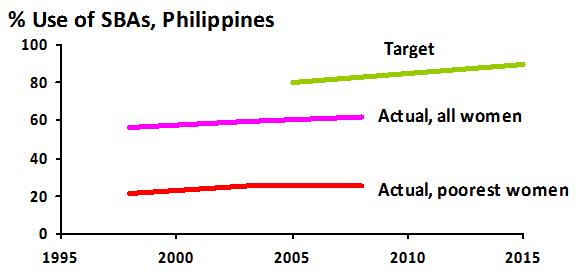 Source: Macro International Inc, 2011. MEASURE DHS STATcompiler.
http://www.measuredhs.com, June 14 2011.
Was the UN target too ambitious? No. Some of our ASEAN neighbors have proven that middle-income countries can attain the goal. Malaysia, Thailand and Vietnam have met or exceeded the target. Indonesia is behind but has performed better than the Philippines (see chart below).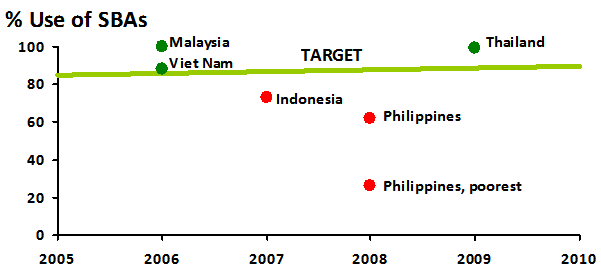 Source: WHO, Women and Health, Health Service Coverage,
Global Health Observatory Data Repository, June 16, 2001.
The average Filipina receives less skilled maternal care than some of her ASEAN neighbors. Those who are poor receive hardly any care at all.
Yes, the country does have a maternal care program which has been in place since perhaps the elder Aquino government, which merely reinforces the point that "business as usual" won't be enough. Having something going on does not mean policymakers cannot make it better funded and more effective, equitable and enforceable. It would be both wise and charitable for the anti-RH forces to concede this issue in the RH bill debates.