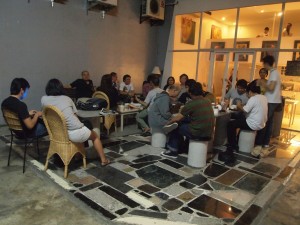 Location: Starbucks at Anson's (Google map)
Date: Saturday, March 12, 2011
Time: 2:30pm – 5:30pm
It's been one month since the last proper meetup! Two weeks ago we eschewed our regular meetup to march on the CBCP in support of the RH Bill and to tell the bishops to stop meddling so this meetup we'll let our hair down for a bit! We'll head back to our home base of the Anson's Starbucks. Look for the fun, intelligent (most of the time) and bloody group of people in Starbucks!
Discussion Topics:
– Is Pro-choice Catholic an oxymoron?
– Lightning protection: 'May lightning strike RH Bill backers'
– Lent for Freethinkers
– Polyamory 101
After the meetup we go for dinner and beer drinking at Congo Grill at El Pueblo (see map). If you're not a meetup regular and can't make it for the meetup but would like to go for the post meetup, please indicate on a post in the wall or comment so we can contact you.
* Newbies are welcome.
* Look for the FF sign (or the group of smart, sexy people).
* There is no required age, religion, philosophy, or IQ level.
* Discussions are informal yet intelligent (most of the time).
* You don't have to talk; you can just sit in and listen.
* You don't have to buy anything from Starbucks.