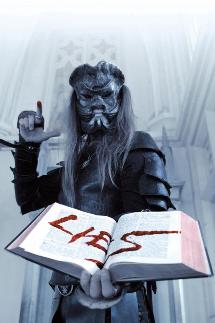 Out on a P6,000 bail, Carlos Celdran is facing charges on "offending religious feelings" under Article 133 of the Revised Penal Code:
Offending the religious feelings. — The penalty of arresto mayor in its maximum period to prision correccional in its minimum period shall be imposed upon anyone who, in a place devoted to religious worship or during the celebration of any religious ceremony shall perform acts notoriously offensive to the feelings of the faithful.
Considering what he did last Thursday, Art. 133 seems to apply. But upon closer look of the law, it appears Carlos may have a way out:
Carlos' act obviously satisfied the first three elements, but possibly not the fourth. If all elements are to be present in order for the act to qualify for Art. 133, notice that Element #4 has actually two parts, namely:
1. There's a deliberate intent to hurt the feelings of the faithful
2. Directed against religious tenet
If those two also need to be present at the same time (meaning the 4th element should be taken as a whole), then Carlos may have a way out because he did not direct his actions towards religious tenet (practice, dogma or ritual) but towards the Church's meddling in government affairs.
Acts must be directed against religious practice or dogma or ritual for the purpose of ridicule, as mocking or scoffing or attempting to damage an object of religious veneration.
Assuming there was "deliberate intent to hurt the feelings of the faithful" (and I think even this is debatable), the act was not directed against religious practice, dogma, or ritual, but on the political practice of the CBCP. Carlos never criticized the Catholic dogma on unborn life, but rather the CBCP's meddling in government affairs. He did not say that Humanae Vitae is antiquated or fallible; he merely shouted "Damaso," "Stop interfering in politics," and "Stop meddling in government."
And with that I think Carlos should not be charged with Offending Religious Feelings.