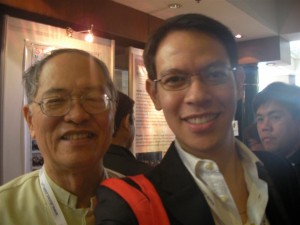 In my previous post about the HIV summit, I wrote about my unanswered question (What should the DOH do about the CBCP problem?) and the elephant in the room (Bishop Yniguez, public affairs director of the CBCP). The guys in the faith-based table (particularly the Catholic priest) probably told the bishop about my question, so I was a bit hesitant to do what I did next.
I interviewed the elephant. After some media representatives interviewed him, I thought I'd take advantage of inertia and cut in right after with my trusty camcorder. It paid off. He took a look at my ID and asked about my surname. I told him my grandfather was Turkish. If that's what he asked me, he must have missed "Filipino Free Thinkers" written below my name.
Anyway, are some highlights:
He was vague about condom use being a mortal sin. Last I checked it still is a mortal sin. But instead of using those words, he said it was a grave matter, which is the same thing.
He said that the Catholic statements against the effectiveness of condoms were supported by scientific surveys and facts.
He said that even if condom use were proven to be effective (by the CBCP "scientists"), if it was opposed to the principles of the Catholic Church, it would still be wrong. Which will always be the case, since condoms are intrinsically evil. (I was surprised he had to think twice about whether this was the case.)
He said that condom use would be OK between a married couple and only if one of the spouses had HIV or AIDS. Now here he is going against the official Catholic stance that condom use is intrinsically evil. Maybe there is hope. (Jail the Pope? Sorry.)
He said that half-Catholics, those who disagree with the Church's position on matters such as condom use, "are not Catholics." Though this would probably be bad for publicity, and as public affairs director, he knew better. So…
He said that Catholics who do not agree with the Church can still call themselves Catholic. But they would be erring Catholics.
I didn't get to prepare, so now I have a lot of tougher questions I wish I'd asked. But I guess it's good enough when you get a bishop to say, "Nadali mo ako dun a."